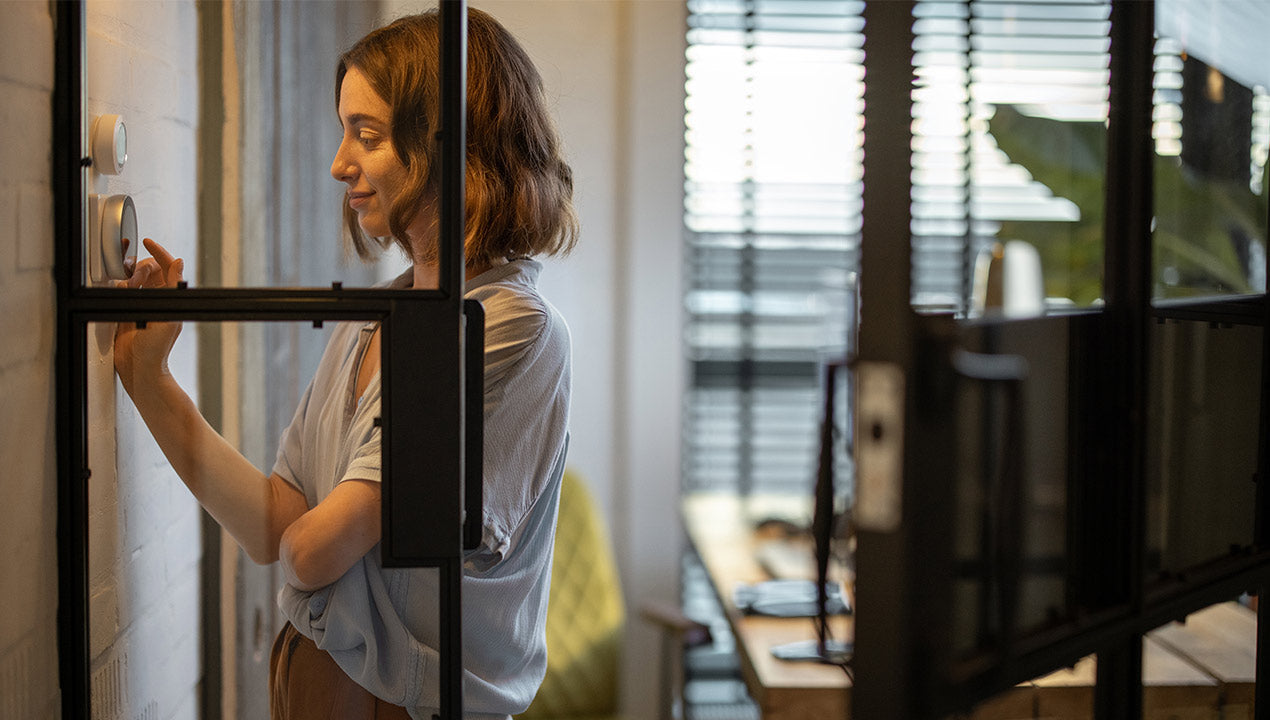 Smart Home Ideas: Technology For Everyday Life
Jun 28, 2021
Smart technology continues to become more affordable and accessible. These smart devices can provide some much-needed convenience to your typically hectic daily life. Below you will find some of the most popular smart home ideas, the coolest of which include smart locks with wifi. Once you try these smart devices, you will wonder how you ever lived without them.
6 Simple Smart Home Automation Ideas
In recent years, the smart home market has exploded. While there are quite a few cool smart home ideas, there are also a handful of duds. With that in mind, we have created a list of some of the smart home devices that give you the most bang for your buck. They are designed to improve the efficiency and safety of your home while also seamlessly integrating them into your daily routine.The first stop, Wi-Fi smart locks.
Go Keyless and Manage Your Door with a Wi-Fi Smart Lock
Have you ever left the house and forgotten to lock the door? Make that mistake a thing of the past by upgrading your home security with a Wi-Fi enabled smart lock that automatically locks when you leave. You can even check if your door is open from your phone's app.
These locks are jam-packed with features, come in a variety of styles and are operable from your phone. Check your lock from anywhere with an app. No more fumbling around with keys when you pull into the driveway or worrying if you left a door unlocked while traveling. When you have weekend guests, you can generate virtual keys for them through the August app for the duration of their stay. No more spare keys or leaving the back door unlocked when you install your Wi-Fi smart lock!
With wi-fi capabilities, August smart locks also fit seamlessly into your existing smart home and work with all of your smart devices. With partners like Apple, Amazon and Google, you can easily integrate your favorite voice assistant to lock, unlock and check the status of your door.
See what else works with August's smart locks
Also available on August.com is a Smart Cabinet Lock from Yale that can be mounted on your existing cabinets and drawers. These can be very useful for keeping valuables secure inside your home or simply for keeping potentially dangerous items away from children. Yale smart products work with August, so you can control it using the same app as your August Smart Lock.
Let Smart Thermostats Learn Your Habits & Save You Money
Have you ever wished you could save money on your electric bill? Are you tired of getting out of bed just to bump the thermostat down a few degrees? If so, then you should seriously consider upgrading to a smart thermostat.
There are a handful of reliable brands available and most of them can even learn your habits. If you adjust your temperature to a certain level every day at about the same time, your thermostat will start making the changes for you.
This smart home idea doesn't just add convenience to your life. It can save you money, too.
For example, you can enable energy savings mode while you are at work or on vacation. Before you head home, you can bump the thermostat back to your preferred temperature setting remotely with an app. Or if you are on a set daily schedule, your smart thermostat will build a schedule for you that matches your daily routines, and this simple adjustment can save you hundreds over the year.

Automate Your Lights with Smart Lighting
Sometimes it can be frightening to arrive home late at night to a dark front porch. And how annoying is it when your hands are full of groceries, and you're struggling to open the door and turn on the light at the same time? Or have you ever gone on vacation and been worried that someone will be able to tell that you aren't home?
There is a simple solution to these problems, take your home automation to the next level with smart lighting.
Adding smart lighting to your smart home is an easy way to fix these problems and give yourself a little extra peace of mind. Smart lighting lets you easily control the lights in and outside of your home in a variety of different ways, like remotely with an app or with motion sensors.
Taking a trip? Vacation mode is a setting that mimics your presence, to make it look like you're there while you're really away.
In addition to having the ability to control all the lights in your home with ease, smart lights can add a sense of safety and enhanced security to your daily routine.
Automate Ceiling Fans & Vents
Thermostats aren't the only cooling device that has wised up over the years. If you really want to commit to home automation, you can upgrade your vents too.
A smart vent works to regulate temperatures on a room-by-room basis. Many of them will even integrate with your smart thermostat. If the temperature in a room falls outside of the desired range, your vents will make needed adjustments to correct the issue.
Ceiling fans are a pretty cool smart home idea too (excuse the pun). Most smart fans automatically turn on when they sense people are in the room, and can even shut off a few minutes after they leave.
These fans can be controlled with an app or with the same voice assistants that control your other smart devices. You can adjust the light and fan speed to suit your preferences without ever having to get out of bed or off the couch.
Use Voice Assistants To Control Your Smart Home
The popularity of smart voice assistants has skyrocketed over the last several years, and for good reason. These can be used to play music, answer questions, lock your door and perform a variety of other tasks using only your voice to control them.
Voice assistants can also be used to control the other smart home devices that are connected to it. Definitely consider using popular voice assistants like Apple Homekit, Amazon Alexa and Google Assistant if you want to get the most convenience out of your smart home devices.
All of these devices integrate directly with and can all be used in conjunction with the August Smart Lock App to give you even more control of your home's door lock.
Keep Packages Secure with Smart Delivery Boxes
Smart delivery boxes are an excellent option for anyone who worries about packages being delivered while they aren't home. These smart delivery boxes automatically lock after a delivery is made to your home, which can help prevent theft, safeguard from weather and ultimately keep your mind at ease.
This Smart Delivery Box made by Yale can be controlled using the August Home App and can send you notifications when a delivery is made. These stylish additions to your front porch also come with an optional cooler insert, to help keep deliveries like groceries or makeup cool and safe until you arrive home.
August: The Trusted Source for Wifi Smart Locks
If you are considering incorporating some of these smart home automation ideas, choosing trusted brands is your best bet to ensure a reliable experience and the security of your home and data. This is especially important when it comes to managing access to your front door's lock. We offer a variety of Wi-Fi enabled smart locks with easy-to-use technology, the most advanced features, bank-grade security, and dozens of smart home integration partners. Ditch your old keys and upgrade your lock today with an August Wi-Fi smart lock!