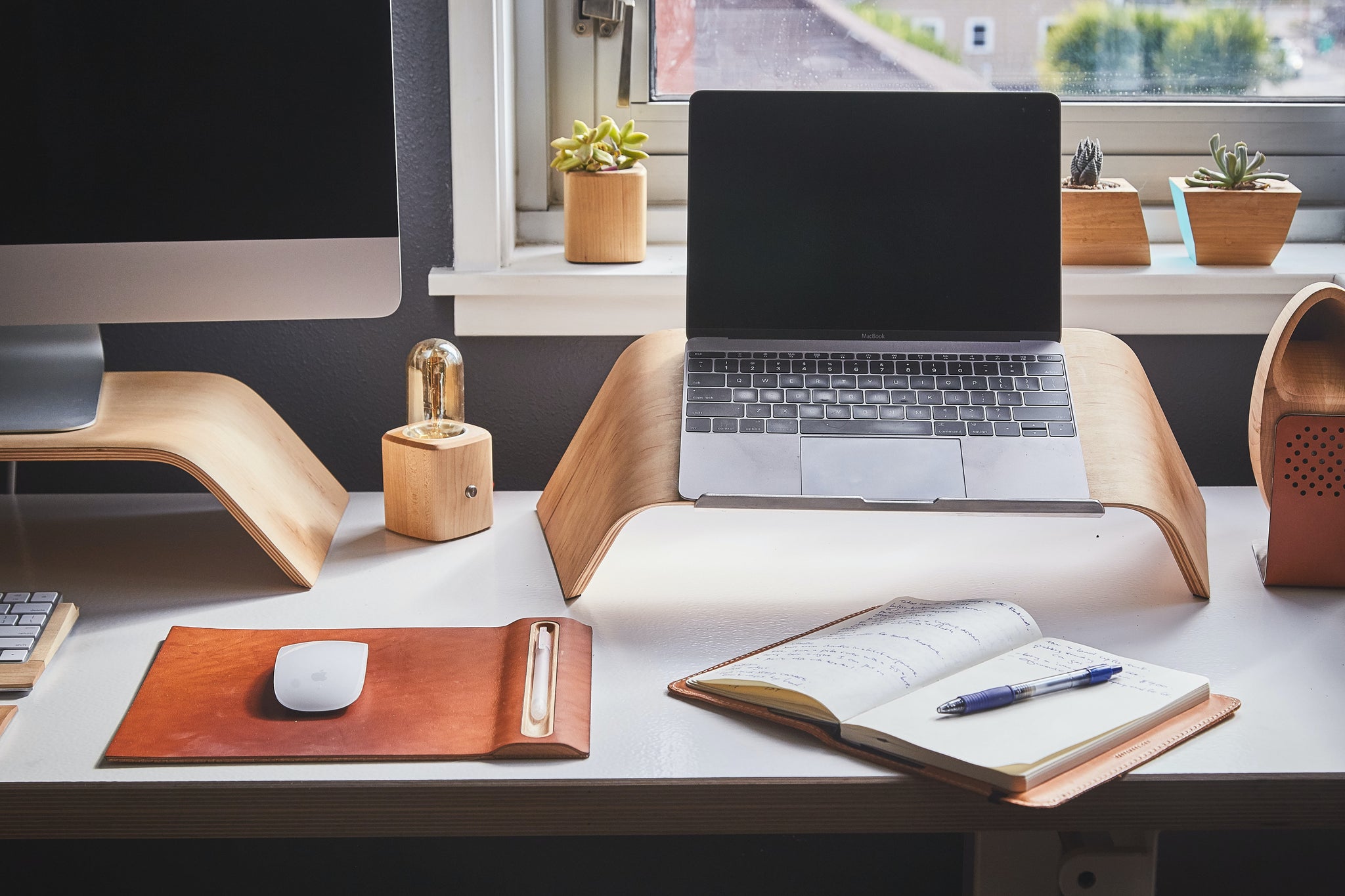 Create the Perfect, Connected Home Office
Jun 11, 2020
Remote work and telecommuting were a trend even before they became a necessity, and is the norm for plenty of professionals. But for some of us, we're still adjusting to ways to be productive in our homes (as well as preparing for the long-haul), which begins with the right WFH setup. Here, we'll delve into how to create a minimalist home office on a budget, necessities, and smart devices to boost efficiency and productivity. 
Some baseline ways to create a quality work environment at home includes organizing the space in a way that allows you to focus on your daily tasks. Consider which room is the quietest, or maybe gets the best light. In terms of layout, focus on the activities that will take place in the room. Think: a station to take photos, hold digital workshops, a standing desk, etc. A proper work surface is key here as well as a comfortable work chair, but are there other tasks you'll need to tackle? Incorporating elements from your office in your actual home will make it feel more like a dedicated work space. This can be as simple as an ergonomic chair, though we'd also recommend picking up some tools. Here are some of the best home office essentials to streamline the work day. 
Yale Assure Lever Lock Connected by August 
Don't have a lock on your office? The Assure Lever is designed for standard, single-hole doors (those without a deadbolt), and comes with a keypad or touchscreen with voice guidance; and key-free and keyed options. Easy to integrate, they can be used as standalone keypad locks or smart locks to work in tandem with a smart home or alarm system with the Connected by August, Z-Wave Plus or Yale Smart Module. It also can be auto-unlocked and be used with multiple entry codes. There are even a variety of finishes including polished brass, oil rubbed bronze, and satin nickel to seamlessly fit into any decor. 
Google Nest Mini (2nd Generation)
Stream music, news, podcasts; control your smart devices; or take a call with Google Nest Mini's three microphones and improved voice recognition. This smart speaker fits right into any room with its compact size and different color options. Plus, its durable fabric top is made from recycled plastic bottles. 
TP-Link Smart Plug HS105 Power Plug
This smart plug comes from TP-Links Kasa line of smart home products. Using your WiFi network, the compact plug works with Google Assistant and Amazon's Alexa. Plus, the Kasa app (iOS and Android) allows for a range of customizable features like scheduling, away modes, and timers. 
Set up this compact, portable USB and Bluetooth® speakerphone in just seconds to hold conference calls anywhere. This little guy has it all—it's compatible with all major UC platforms; has a built-in omni-directinoal microphone to pick up sound from any angle; and offers 15 hours of talk time on a single charge. You can even interact with your voice assistant via your smartphone, or make a speed dial with the one-touch Smart button. 
Add some comfort to your workday with the elegant Moft Laptop Stand. Raise your laptop or tablet to an ergonomic height to avoid neck pain. The stand also folds down to under 0.12" thick, for easy storage and transport.  
This smart ceramic mug will keep your daily cuppa at the perfect temperature. Select your settings and control it via an app on your phone. And don't worry about forgetting to turn it off, it will go into sleep mode automatically. 
Beauty and calm are also essential elements to a workspace for inspiration and grounding to focus. Adding a plant or two to your desk goes a long way—and you can support a local nursery. These pots make it super easy for those with busy schedules. Just fill the outer glass layer with water and the plant absorbs only as much as it needs through the terracotta pot. 
Theralite Aura Bright Light Therapy Lamp
There's perhaps nothing that makes a greater impact than light. It affects mood and energy levels, and in turn focus and productivity. This lamp promises to enhance all of the above with 10,000 LUX LED glare-free white light for optimal bright light therapy. Four light settings and adjustable height and angle allow for multipurpose use for a therapeutic effect or desk lamp. It's also been clinically tested to help treat symptoms of light deficiency due to lack of sunlight