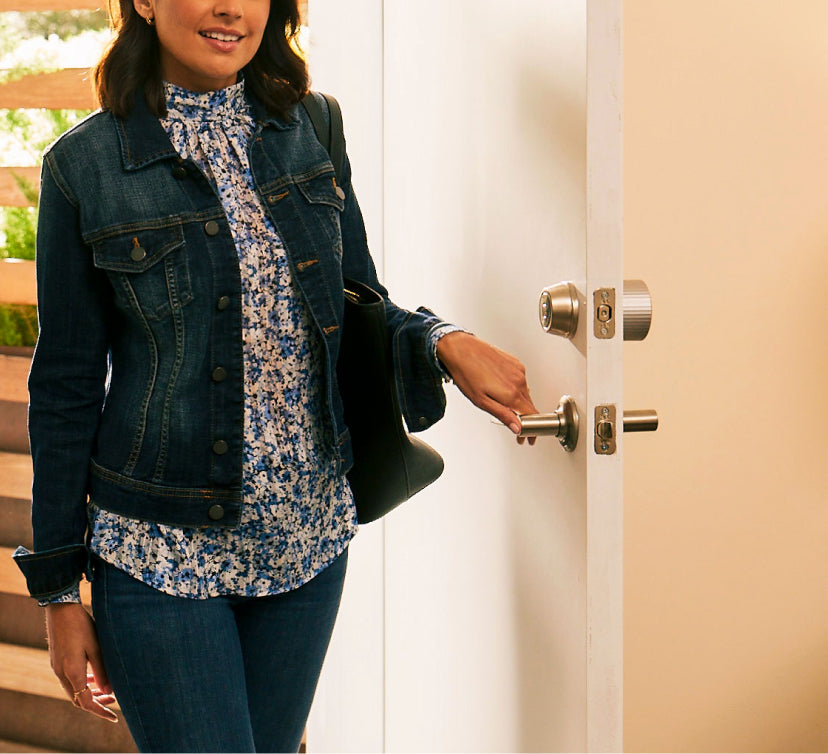 FEATURE
Automatic Door Locks
Easily come and go with auto-lock and unlock.
Leave your keys and your worries behind.
Automatic door locks are the ultimate modern convenience for those with busy schedules. Get extra peace of mind with features like Auto-Lock and Unlock. With Auto-Unlock, our Bluetooth-enabled Smart Door Locks recognize when you're near your door and unlocks automatically as you walk up. August locks are even smart enough to know when the door is closed and will automatically lock using our DoorSense™ technology or you can even set a timer and have the door lock a few minutes after you leave your home.

Bluetooth-Enabled Keyless Entry
Virtual Keys

Two-Factor Authentication

Customizable Access

Smart Alerts via August App
Stress-free convenience because you deserve it.
With automatic locking, you can forgo having to carry around a set of keys. Your door will secure behind you when you leave, and unlock as you arrive home for extra convenience when you're coming in with hands full. August lock Bluetooth technology will recognize your smartphone or smartwatch and, like a personal doorman, unlock the door for you.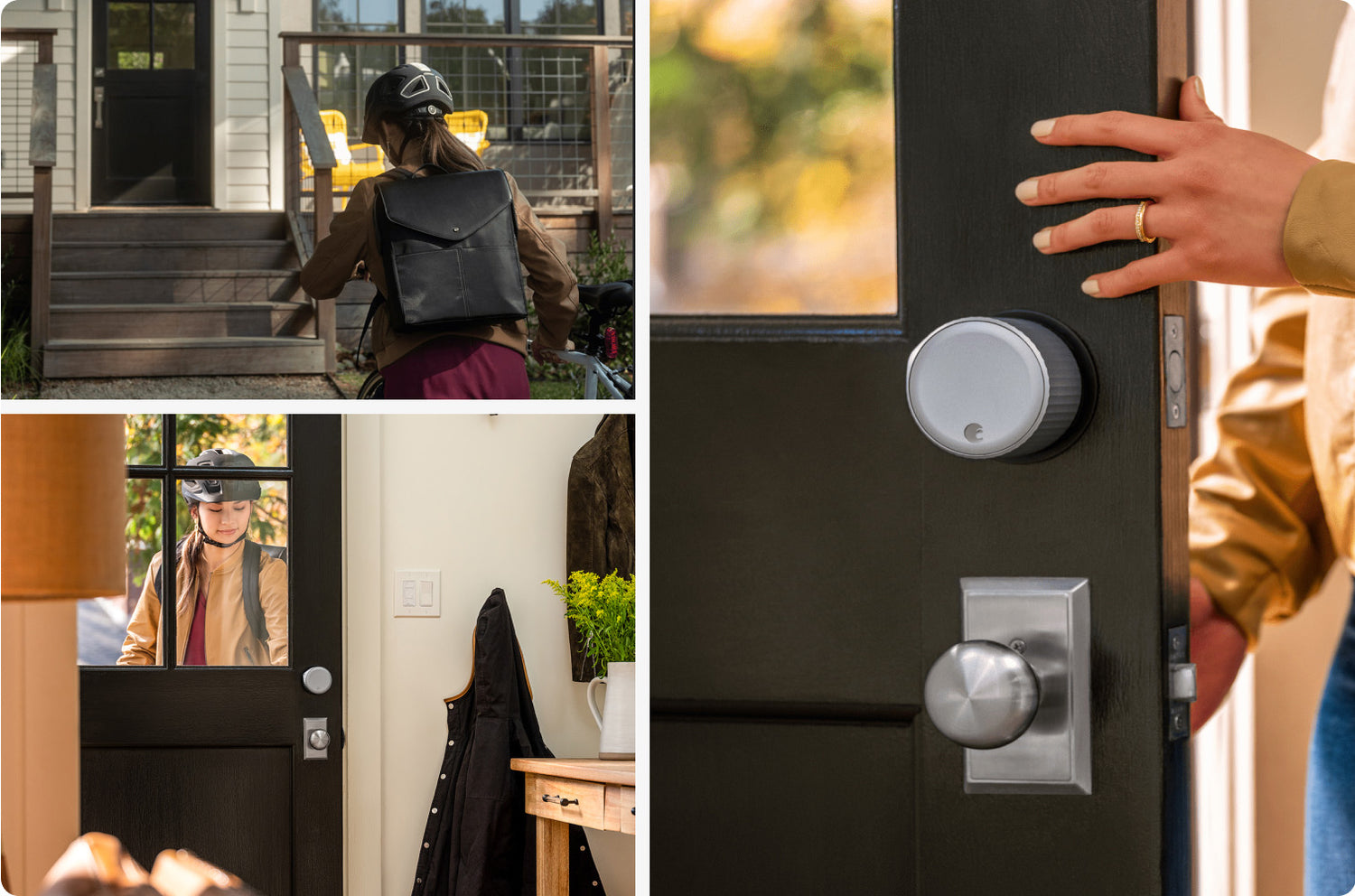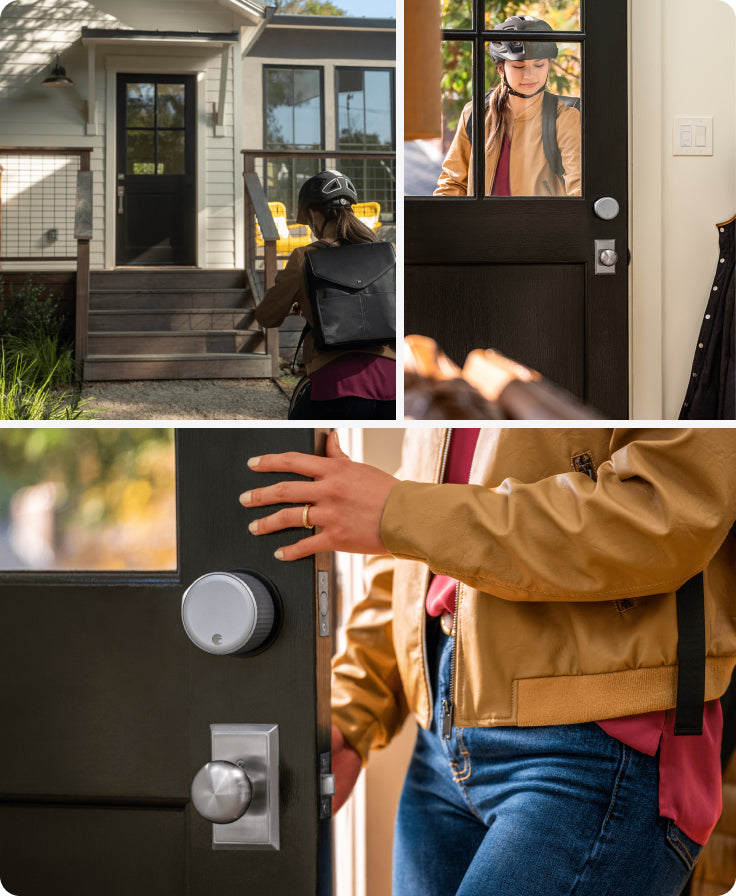 Say goodbye to locking the door behind you.
With automatic door locks, you'll never have to turn around to make sure the house is secure, or even carry keys! Also, forget having to lock the door when you're in a hurry – simply close the door, and the August lock will lock itself. You can even set a specific duration of time for it to auto-lock behind you when you leave so the house is always safe.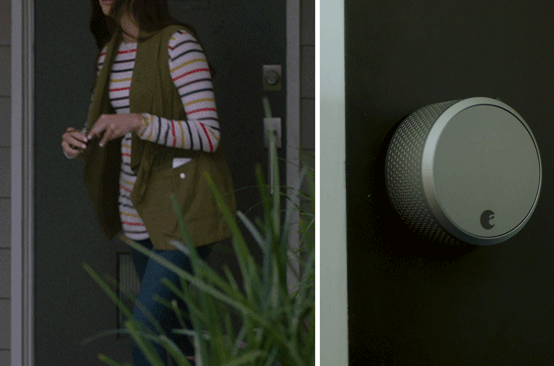 Peace of mind when you're away*.
Never wonder again if you locked the door with our automatic door locks. With our smart DoorSense™ technology, check to see if your door is open or closed right from your phone. When enabled, you'll receive Smart Alerts if your door is still open. Once closed, auto-lock will engage after a specified period of time. This way you'll never accidentally leave your door open.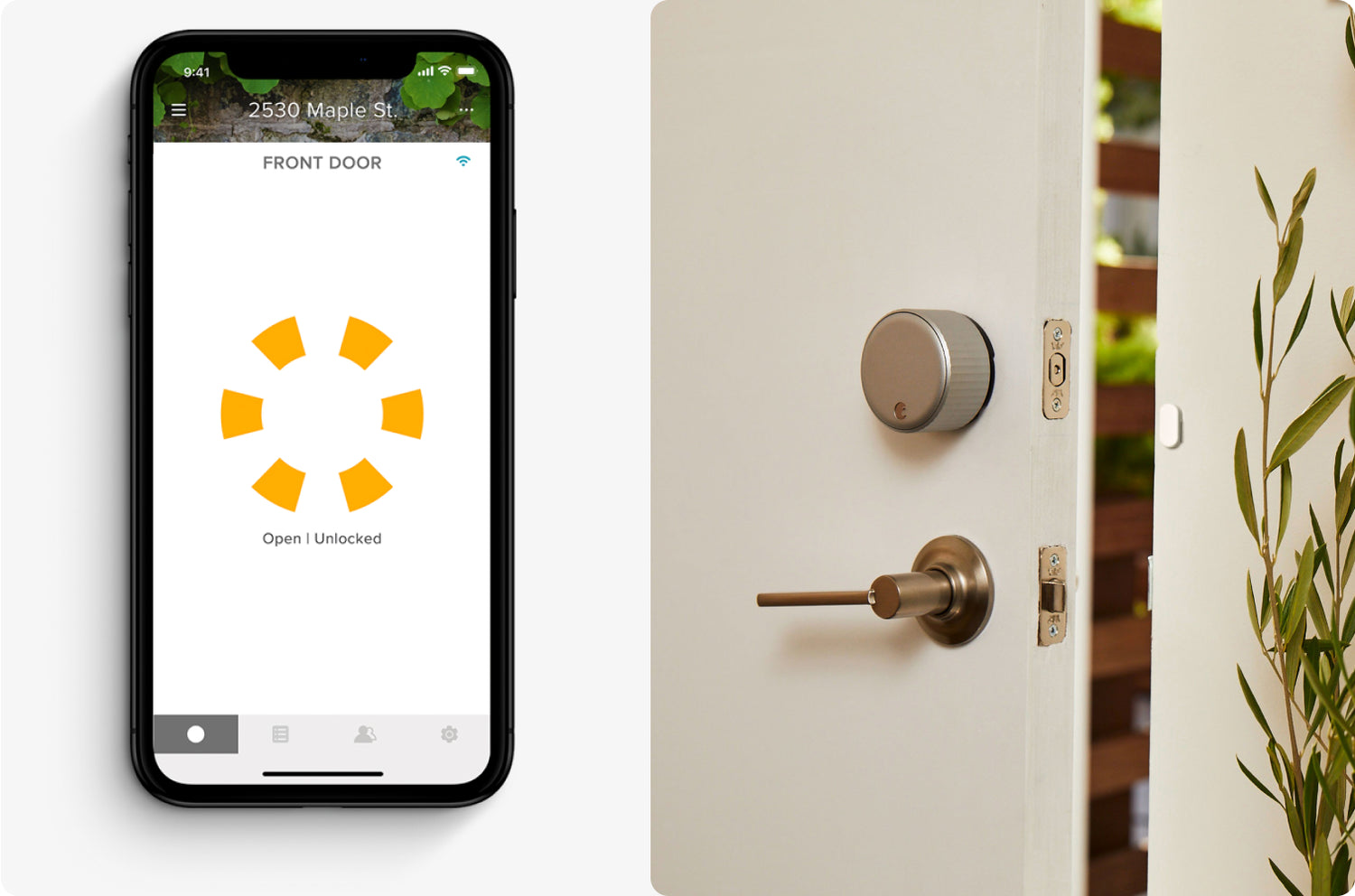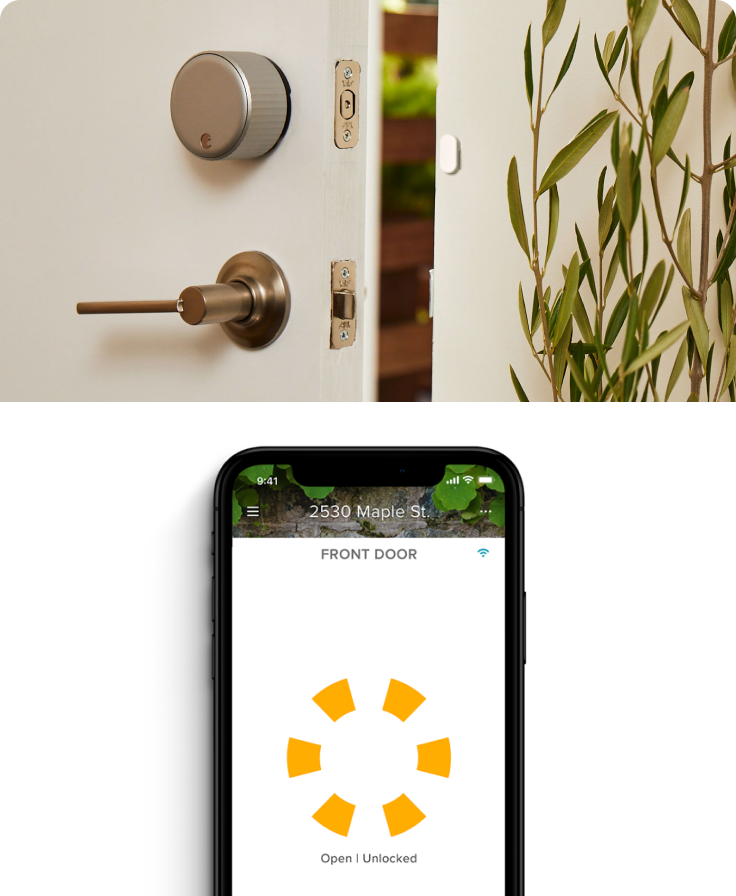 How the automatic door locks works
Unlike other proximity locks, our unique automatic lock technology uses your phone's Bluetooth, Wi-Fi, GPS, and the August app to assess your location. All of these systems intelligently work with your phone's operating system in tandem with the August app.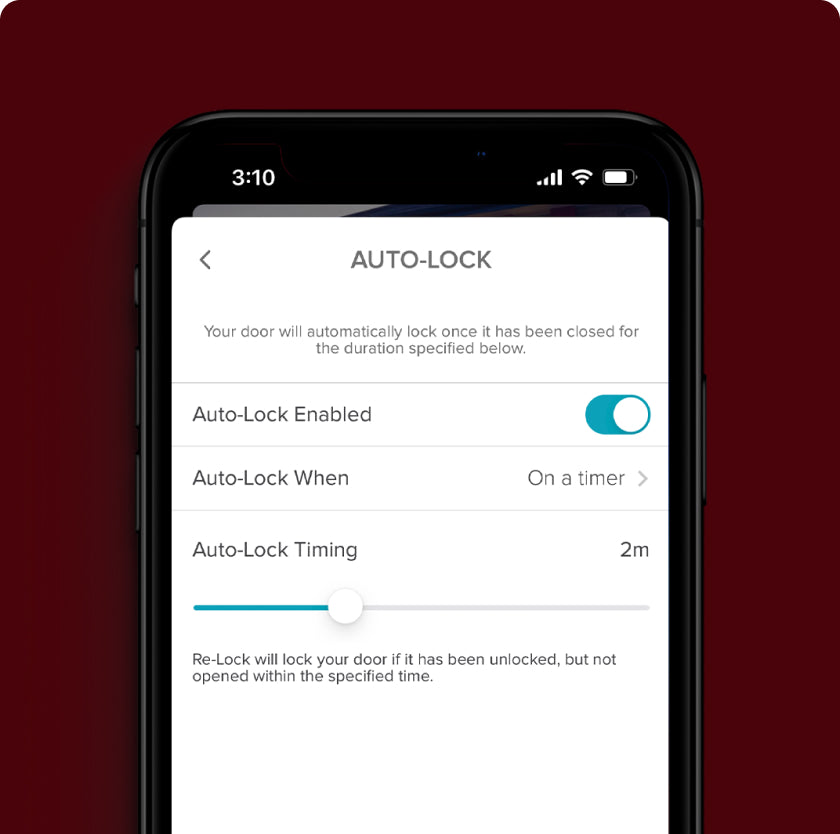 Customize Auto-Lock Timing
Your smart door lock automatically locks itself after your choice of a specific time period- select anywhere between 30 seconds and 30 minutes.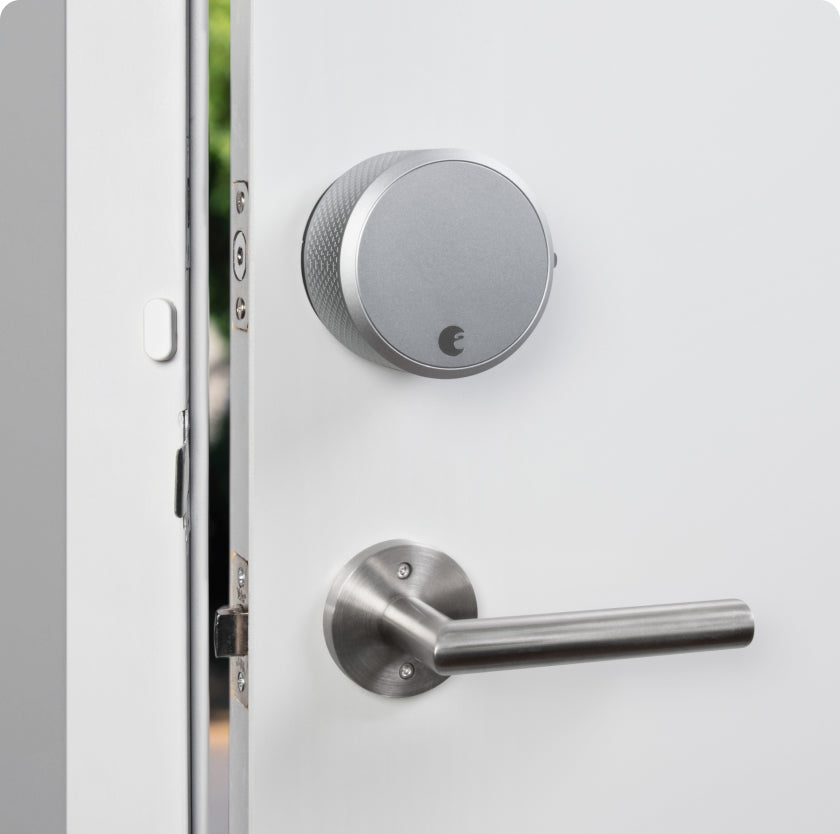 Install DoorSense™ For Tracking
Our DoorSense™ technology informs you when your door is open or closed.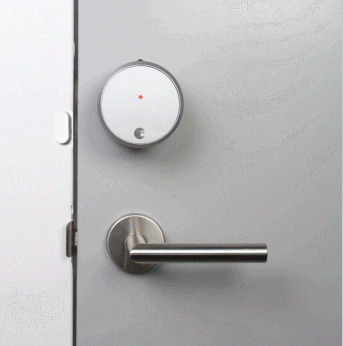 Set Up Optional Instant Locking
Want your door to lock as soon as you close the door? DoorSense™ will program your Smart Lock to lock automatically as soon as it detects that your door is closed.
Disclaimer: *Connect Wi-Fi Bridge or Wi-Fi Built in required for voice speaker integration and remote access features
Recommended Smart Locks
Automatic locking features are built-in for all August Smart Locks.
Frequently asked questions
Within the August App, you can adjust your home's perimeters (geofence) to ensure that your lock knows whether you are at home or away. When your smart lock detects that you have left your home, the auto-unlock features will be active until you return home and approach your door. Auto-unlock will then be initiated via Bluetooth when you are within 20 feet of your entrance.
Unfortunately not. To ensure location accuracy, it is not possible to have the perimeters too small as this could lead to the possibility of false auto-unlocks while you are at home.
Your home's perimeter is only used to detect auto-unlocking. Auto-locking works on a customizable timer (30 seconds to 30 minutes) or can be set to auto-lock instantly once the lock senses the door is closed using DoorSense™ technology.