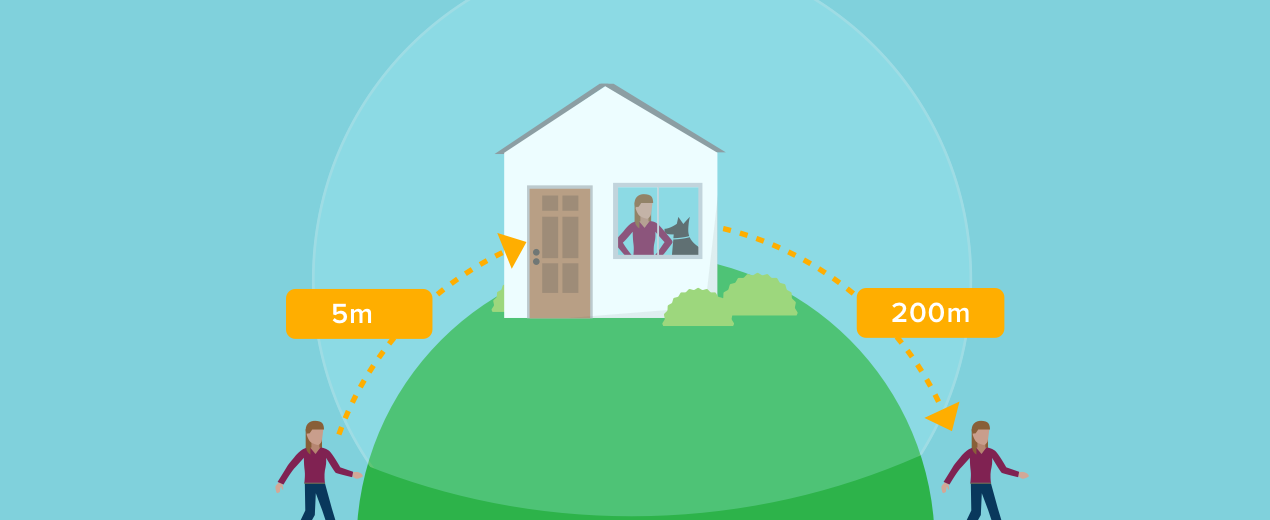 Auto-Unlock: How It Works on August Smart Lock
Dec 14, 2017
August Smart Lock Auto-Unlock is one of the most popular and unique features among August Smart Lock users. Having your door automatically unlock as you approach, all without needing to reach for your keys adds modern convenience to your life. Like any simple and smart technology, there is a lot happening behind the scenes to make automatic locking/unlocking a smooth, reliable experience. 
How does Auto-Unlock Work?
Unlike other proximity locks, Auto-Unlock relies on a few different technologies in your phone to understand its location. August Auto-Unlock uses your phone's Bluetooth, Wi-Fi, and GPS, in addition to the August app. All of these systems are managed by your phone's operating system communicating with the August app. By doing it this way, your August Smart Lock is able to understand the proximity of your phone with industry-leading precision and safety. So how does the August app know when to automatically unlock your door?
The August app has two states that determine how Auto-Unlock functions: Home and Away. When you're at home, your August app will enter Home Mode and Auto-Unlock becomes inactive. As long as you are in Home Mode, your August Smart Lock will not unlock automatically. As soon as you leave your home, the August app will switch into Away Mode. Before switching into Away Mode, the August app waits for you to move at least 200 meters away from your home. Once the app is in Away Mode, your August Smart Lock will wait to automatically unlock when you return home.
As you return to within 200 feet of your home, your phone will start looking for your lock. Within 20-30 feet of your door, the August app will find your August Smart Lock, to automatically unlock the door, and return to Home Mode. No more fumbling for keys or your phone with full hands to open locks, everything happens automatically based on your proximity to the lock.
More info and tips for the best operation of August Smart Lock Auto-Unlock can be found here for iOS, and Android. 
How Does August Auto-Lock Work?
Not only will your August Smart Lock automatically unlock as you approach your home, but it also locks the door behind you. By activating the August Auto-Lock feature in your August app, your automatic lock will lock after a specified amount of time. Whether you are at home or not, you can trust that your home is sealed and secure with Auto-Lock.
Before you enable August Auto-Lock, you will need to have DoorSense™ installed and set up. For help doing so, see this how-to document. Once DoorSense™ is all set, simply open your August app, navigate to "Lock Settings", toggle the "Auto-Lock" button, and set your "Auto-Lock Timing". This is the same settings location to manage your Auto-Unlock feature.
Unlike Auto-Unlock, August Auto-Lock is not affected by your phone's location. Whether you are at home, or out and about, Auto-Lock will seal your door after the amount of time you choose. You can select anywhere between 30 seconds and 30 minutes before your door will automatically lock again. Auto-Lock happens each time you open the door, as opposed to on a regular schedule. Want your door to remain constantly locked? Set the Auto-Lock Timer to 30 seconds. Maybe you're in and out of the house regularly? Set the Auto-Lock Timer for a longer period of time.
Tips And Updates for August Auto-Lock
Every time your operating system is updated, the updates change how your phone communicates with different apps. Updates will often affect how the August app and Auto-Unlock interact with your phone's Bluetooth, Wi-Fi, and location services. We continuously release updates to our apps to improve your Auto-Unlock experience. Now is a better time than ever to try both the August Auto-Lock and Auto-Unlock features. We've fine-tuned both features for seamless use on Android and iOS devices. In order to get the most out of your August Smart Lock, please make sure you've done the following:
-New Users: Update to the latest version of the Android or iOS app and enable Auto-Unlock in your Lock Settings.
-Current Users: If you currently have Auto-Unlock enabled, you will need to toggle it off and on again in your Lock Settings to see all of the latest improvements and features.
Here at August, we are constantly working to make sure that your August Smart Products seamlessly enhance your day-to-day life. For the best performance, please keep both the August app and your phone's operating system up to date.
With August Smart Lock Auto-Unlock and Auto-Lock features, you can trust your home is always safe and sealed, waiting to automatically unlock as you approach. It's incredibly convenient, but the peace of mind is unmatched. Best of all, both the August Smart Lock Pro and August Smart Lock are enabled with the automatic lock and unlock features. View each product page for a comparison of features, additional benefits, pricing, and much more.