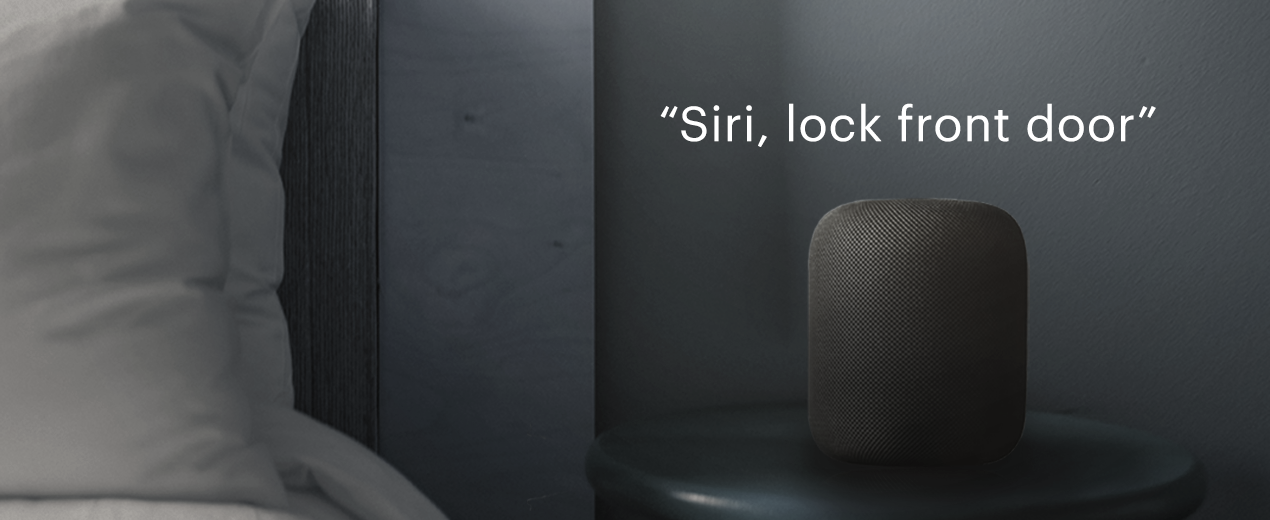 Apple HomePod Works With August Smart Lock
Mar 20, 2018
The HomePod has been lauded for its sound quality, but it's also an intelligent home assistant capable of handling everyday tasks – and controlling your smart home. For
August Smart Lock Pro
(3rd generation) and August Smart Lock (2nd generation) users, HomePod offers another great way to control your lock with your voice. And, HomePod's advanced six-microphone array and advanced echo cancellation system allows Siri to hear requests from anywhere in the room, even with loud music playing.
Turn your home into a
smart home with the Apple
HomePod and August Smart Lock today!
Control Your August Smart Lock With Siri/HomeKit 
When you're home, the HomePod can serve as a hub for your smart devices that integrate with Apple HomeKit. Now, August's smart locks and Apple HomePod, through Apple's HomeKit, have come together to give you access to your home even when you're away. When you are on-the-go, you can use Siri on your iPhone or Apple Watch to tell your HomePod, through HomeKit, "Siri, lock my front door." You could also use the two to include your Smart Lock as part of a "goodnight scene" to lock your doors in the evening. This will include other HomeKit-compatible devices and will, for example, power down your house before you head to bed. Before the HomePod, you needed an Apple TV or an iPad in your home to act as a HomeKit bridge to your August Smart Lock, but now all you need in your smart home is an Apple HomePod and August Smart Lock to create an easy-to-use keyless system for locking your doors.
With this duo system, you are able to instruct Siri to lock your door or check the lock status. What you can't do is command Siri or the HomePod to unlock your door. However, you can use all of your other Apple devices, such as your iPhone and Apple Watch, to lock and unlock your door, and check the lock status!
Keyless Door Lock System with August's Smart Keypad
Adding the August Smart Keypad to your smart home automation system will allow you, or any guests, to unlock your door with your own unique entry code without the use of your iPhone or house keys. The August Smart Keypad easily mounts outside any door and works with all August Smart Locks. Upgrade your August Smart Lock by adding an August Smart Keypad and save money! 
Done Locking? Start Rocking!
We all know by now that the Apple HomePod takes your music listening experience to a whole new level with its advanced Apple-engineered audio technology and software. For this reason, we have created a playlist for our HomePod users to groove to after you lock your door with Siri. Our August-themed playlist will get you dancing like nobody's watching in the comfort of your living room. Now use your new smart home door lock system and turn your HomePod up to 11!     
August's Lock & Rock HomePod Playlist
-Doors Unlocked And Open (Death Cab For Cutie)

-Let 'Em In (Wings)

-My Doorbell (The White Stripes)

-What Locks The Door (Norma Jean)

-Ring My Bell (Anita Ward)

-Knocking' on Heaven's Door (Bob Dylan - alt: Guns N' Roses or Grateful Dead version)

-Let's Lock The Door (And Throw Away The Key) (Jay & The Americans)

-Lock The Door Lariston (The Corries)

-Anything by The Doors

-Anything by 3 Doors Down
How to Set Up an Apple HomeKit Bridge for Your August Smart Lock
Watch the video below (can also be found here) for an easy, quick, step-by-step visual walk-through on how to set up HomePod on your August Smart Lock Pro (3rd gen), or follow these simple steps below: 
-Open the August App
-Go to Settings → then Lock Settings
-Click "HomeKit Settings"
-Click "Enable HomeKit"
-Once enabled, click on "Add a New HomeKit Home"
-Create a name
-Select room, or none
-Look for the HomePod Setup Code found on the accessory or its packaging and position the code in the camera frame
-Once the app recognizes the HomePod Setup Code, it will automatically add the accessory, and notify you when it's finished and ready for use
If you're having trouble setting up the Apple HomePod to the August Smart Lock, our helpful support team is available to help you figure it out! Find an abundance of helpful tutorials and articles or contact the support team directly at 844-284-8781.