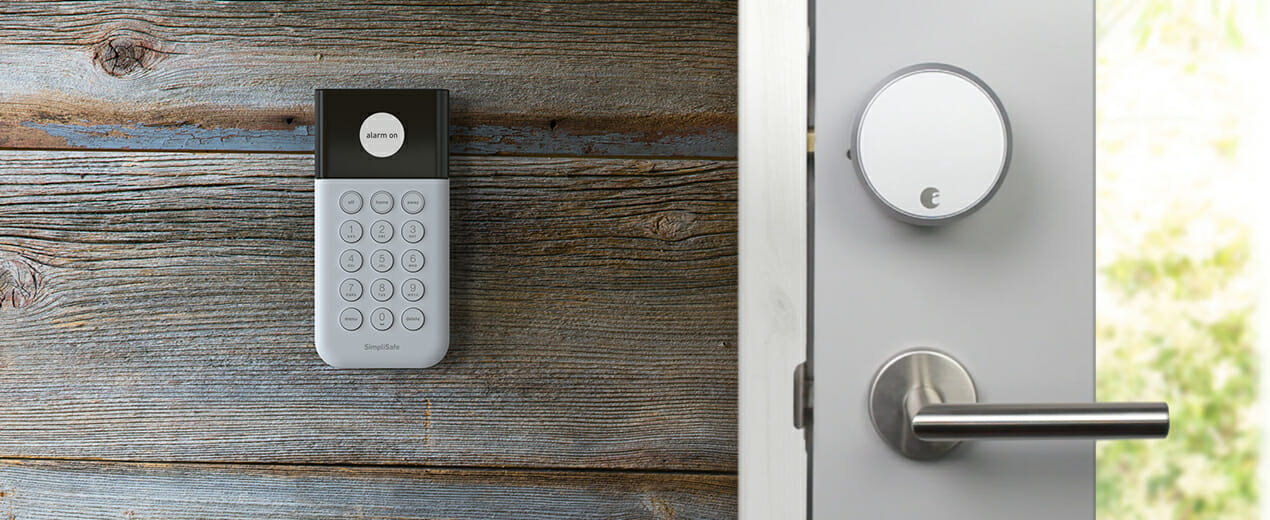 SimpliSafe Integrates August Smart Locks to Make Your Home More Secure
Apr 09, 2018
At ISC West in Las Vegas (April 11-13) August (ISC West booth #33067) is announcing a partnership to integrate SimpliSafe home security systems with August Smart Locks. The integration allows SimpliSafe customers to automate locking and unlocking their August Smart Lock and August Smart Lock Pro in sync with arming and disarming the SimpliSafe security system. This ensures that customers' homes can be protected by both a locked door and a monitored security system when they leave during the day and go to bed at night.
"Our mission is to make every home secure," said Chad Laurans, SimpliSafe's founder and CEO. "We've taken the time to work hand-in-hand with the August Home team to ensure that the integration offers not only convenience, but also the strongest, most reliable protection possible, building on our promise of a total home security platform."
About SimpliSafe
SimpliSafe has been revolutionizing the home security system industry since 2006. All of their security products are designed and manufactured in-house, which guarantees a high level of quality. SimpliSafe offers sensors, keypads, cameras, and alarms to keep your home protected.
Seamless Access Control & More Security
This partnership will add the much-needed convenience aspect to home security systems. August Smart Products will allow people to access their homes through keyless entry, check the status of their homes right from their smartphones, get real-time alerts of people approaching or entering the home, and will make it possible to control your home remotely, regardless of whether you're at work or on vacation.
When customers disarm their home security system through the SimpliSafe Key Fob, Keypad, or mobile app, their August Smart Lock Pro will automatically unlock to provide smooth access to their home. Similarly, when customers arm their security system, their August Smart Lock will lock, adding another layer of home protection. In addition, customers can control their system and August Smart Locks from anywhere. Now when a guest needs to get in—like your dog-walker or babysitter—you can unlock your door and disarm your SimpliSafe Key Fob system right from the mobile app, and then easily lock and re-arm the system.
"The integration with SimpliSafe combines state-of-the-art security with secure keyless entry to your home. With the touch of a button, users can now arm and lock or disarm and unlock their door, adding another layer of security and control to users' smart home automation," said Jason Johnson, co-founder and CEO of August Home.
Compatibility
The SimpliSafe and August Smart Lock integration is now available to all SimpliSafe customers subscribed to its interactive professional alarm monitoring plan.
Integrating your August Smart Locks or August Smart Lock Pro with SimpliSafe requires an August Connect Wi-Fi Bridge to connect the Bluetooth lock to Wi-Fi.
The connection that the August Connect creates allows you to control your smart lock from your smartphone. It allows the Smart Lock Pro to transform into a remote door lock, so you can control it from your office, while you're on vacation, or when you're running errands!
Revolutionize Your Home Security System
The seamless integration of SimpliSafe with the August Smart Lock Pro will help take your home security system to a whole new level. By combining August and SimpliSafe, you'll have top-notch security that is incredibly easy to use. At August, we aim to remove the stress from peoples' lives wherever we can, so you can focus on the things that really matter. The integration between SimpliSafe and August will make it more convenient to monitor your home and ensure that your belongings and your loved ones are safe. Start shopping our products below to get peace of mind as soon as tomorrow!
August Smart Lock Pro
The August Smart Lock Pro lets you lock, unlock, and monitor your front door from your smartphone. You'll have full control over who can enter your home, and peace of mind that your house is secure at all times. The Smart Lock Pro works with most existing hardware, so if you're not ready to fully part with your key, you don't have to! Easy DIY installation makes it so the Smart Lock Pro can start protecting your home in just a few minutes.




SimpliSafe Original Package
SimpliSafe's award-winning home security products come in lots of varieties, packages, and custom-build options. Everything is easy to install, simple to use, and incredibly effective at keeping your home safe.
Bundle convenience & safety with both August & SimpliSafe
SimpliSafe's monitored security system integrates seamlessly with August Smart Products. August Smart Locks come in a variety of finishes so they'll match your home's unique style. For help with installation, there are detailed instructions in our install guides.