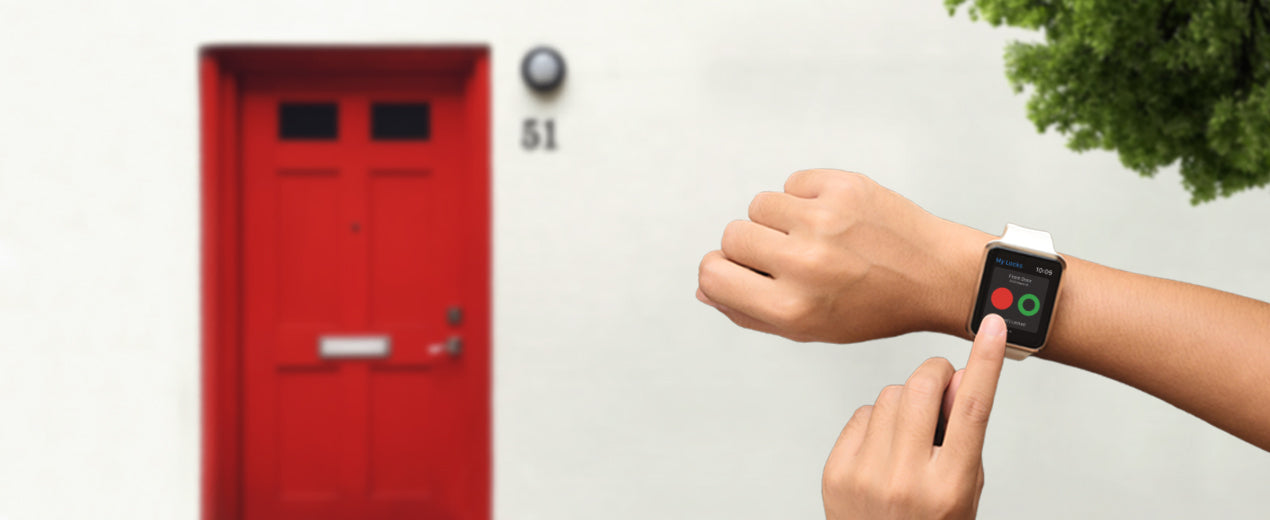 Unlock Your Door With Just Your Apple Watch
Apr 17, 2018
If you're busy and always on the move, you don't want to worry about whether or not you locked the door. With any August Smart Lock, you can lock and unlock the front door with your Apple Watch®. Embrace the freedom of heading out on a run, walking the dog, or gardening in the front yard with just the watch on your wrist.
How Your Smart Lock and Apple Watch Work Together
The native August Apple Watch app lets homeowners with any generation of our August smart locks and Apple Watch control their lock when within Bluetooth range, without needing their iPhone. Using your watch is now among the fastest and easiest ways to control your lock. From your watch screen, you can view multiple August locks or choose to control only your main lock. You can also add August Smart Lock as a watch face shortcut on your watch's home screen. There are many features to enjoy with August's convenient Apple Watch app that makes controlling your home easier than ever.
Apple Watch Smart Lock Control
By pairing your Apple Watch with your August smart lock, you can control and open your front door, transforming your smart lock into an Apple door lock. Whether from your iPhone or Apple Watch, you can lock and unlock the front door from within Bluetooth range, as well as keep track of who is entering and exiting your home. This also allows you to see the status of all the doors you control with August. A simple red or green dot tells you whether the door is locked or unlocked, and allows you to change the status right from your watch. So, if you're out running errands and someone forgets a key, you can simply unlock the door from your Apple Watch (when your iPhone is nearby). This means convenience for everyone no matter what you might be doing.
See Who is Coming and Going
Keep an eye on who is entering and leaving your home with a simple notification. With the August app and August Connect bridge, you can see a log of who has accessed the door and at what time. Once you add your family, friends, or whoever else you'd like to have access to your home, you can see their activity. When you have multiple people accessing your home, it's nice to know who is there and who isn't throughout the day. August helps you keep track of the family, even when you're on the go.
Get Notified
While you may always have your phone on you, that doesn't mean you're checking it consistently. This is one of the best features of the Apple Watch. With your main source of notifications on your wrist, you won't miss a thing. If the door is left unlocked or someone comes home, you'll receive a notification right on your watch. Take control of your home with your August smart lock and Apple Watch.
How to Activate the August Apple Watch App
To begin using the August Watch app:
- Update your August app on your iPhone to version 6.7.10 or higher and make sure your watch is running WatchOS 4 or higher
- Launch the August Apple Watch app on your watch. You may be prompted to log in to your iPhone to sync your lock(s) with your watch
- Give it a try!
The Apple Watch lock and unlock feature is available to any August user set up as a house Owner. You can promote a house "Guest" to an Owner:
- Open the Guest List in the August app
- Tap the Guest that you would like to promote to an Owner
- Update the Access Level to Owner and save the changes
It's important to note that if you want to use Auto-Unlock, you will still need to have your phone nearby since this feature relies on a few different technologies inside your iPhone. You can check out our guide on how Auto-Unlock works for all the details.
Enjoy peace of mind and embrace the freedom of controlling your August Smart Locks from your Apple Watch from anywhere - simply open the August App on the deceive and you will be able to lock and unlock your door!
See How It Works
!