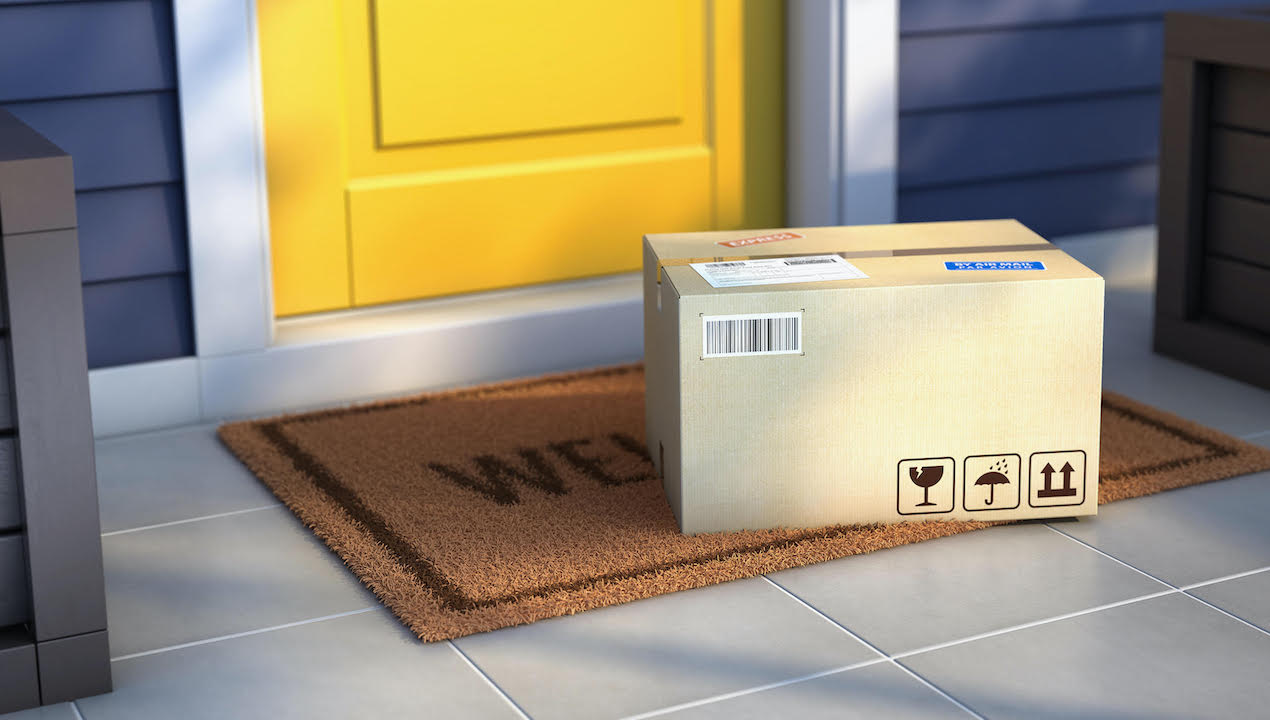 What To Do If A Package Is Stolen From Your Porch
Dec 18, 2020
There's always a little bit of excitement involved when ordering an item online. Aside from the convenience of ordering online, there's a certain pleasure in knowing that only a few short days later, you'll be receiving your package right on your own doorstep. It doesn't matter if it's a package of dog food or a new garden tool or a tricycle for your child for Christmas — getting packages delivered is just a pleasurable experience.
So it goes without saying that when a package goes missing, the resulting emotions you feel are the complete opposite. At first, it is likely confusing. You received a notification that the package was delivered, and the address information is correct, so where is it? 
Then, confusion turns to a mixture of vulnerability, anger, and despair as you come to the realization of what must have happened.
Your package was stolen!
Indeed, porch pirates have struck again, and this time, it was your house. And while it's no consolation, you are not alone. CNBC reported that last year porch pirates affected over 1/3 of Americans, with the majority of Amazon, UPS, and USPS stolen packages occurring during the holiday season. We are here to help you know what to do if a package is stolen.

What To Do If A Package Is Stolen
When a package is stolen from your porch, there are a number of actions you can take that might help to recover the package, or, at the very least, prevent such a brazen theft from occurring a second time.
First, attempt to confirm whether or not the UPS, FedEx, or Amazon package was actually stolen, or if it was just possibly misdelivered. Most companies now alert you when a package has been delivered, but if you didn't receive an alert, check the tracking number. This will tell you if the item was actually delivered or not. If it was, and you can't find it, contact the delivery company.
Some delivery companies, such as USPS, can look up and see via GPS where the package was actually delivered to. Mistakes do happen from time to time, and the package could have been delivered to the wrong house or even the wrong street!
If you can confirm that the package was delivered to your home, then you are likely dealing with a stolen package and should follow these steps.
Step 1: Contact the Seller
Many retailers are aware of the porch pirate problem and already have policies in place if a package is stolen from a porch. For example, if your Amazon package was stolen, once you file a claim with Amazon, the e-tailer will usually offer a refund or will ship the item to you again.
Step 2: File a Claim with the Shipping Company
As an alternative, or if the seller refuses to provide a refund or replacement, you can contact the shipping company to file a claim for a USPS, Amazon, or UPS stolen package. All major shipping companies enable you to file a claim.
Get Reimbursement Through Purchase Protection
If you purchased the item with a credit card that offers purchase protection features, you may be able to claim reimbursement. Just be sure to notify the card issuer in a timely manner. If it was a high-value item, you may have to make a claim with your homeowner's insurance instead, since many credit cards have a limit on the value you can claim.
How To Prevent Package Theft From Your Porch
As we head into porch pirate season, you may want to consider extra precautions and preventive measures so that a stolen package doesn't happen to you.
Installing a security camera or similar device is one of the best ways to help prevent package theft. While they don't always prevent porch pirates from committing their dastardly deeds, they are definitely a huge deterrent. Sometimes simply seeing the security camera can discourage potential package thieves, but many cameras can also provide you with alerts and/or evidence if a porch pirate shows up at your door or on your property and your UPS package is stolen.
Schedule Signature or In-Person Delivery
As an option, many delivery services allow you to have a package shipped that requires a signature or in-person delivery. That means that the package won't be delivered unless you or another resident of the home is there to receive and/or sign for the package. If you aren't home, the package will be brought back to the delivery hub instead of being left at your door.
Use A Delivery Box
Instead of having the packages delivered to your porch out in the open, you can have them delivered in a delivery box that sits on your porch. With smart delivery boxes such as the Yale Smart Delivery Box, you can have the packages delivered to a safe, secure location that only you and the deliveree can open per your request. 
This holiday season, don't be a victim of porch pirates. Take the appropriate measures to secure your porch or your packages, and you won't even have to worry about what to do if a package is stolen. Please contact us with any questions you may have about the Yale Smart Delivery Box.