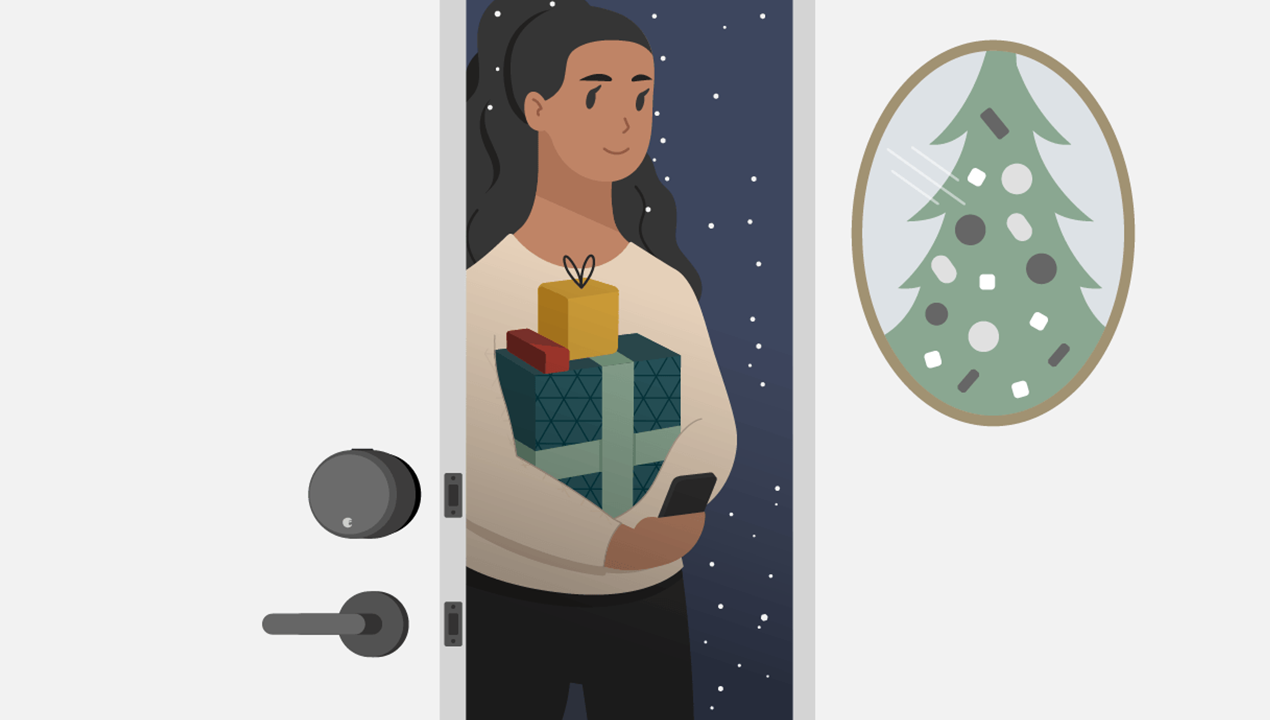 This Holiday Season, Let August Be Your Hero
Nov 25, 2020
After a year unlike any other, we could all use a little extra support this holiday season. And whether you're prepping for a safe family gathering or virtual celebrations, it's never been more important to keep the hopeful spirit of the holidays alive – even when they're bound to look a little different. August has always been ready to help make your home run more smoothly and stay safe, and this season is no different. It's time to let August be your hero, and imagine how seamless we can help your holidays be.
Need a hand? Minimizing touchpoints? We'll let you in!
'Tis the season of full hands, literally and figuratively. Whether you're bringing in groceries for holiday dinners, or packages full of supplies to deck the halls, our smart locks' Auto-Unlock feature intuitively unlocks the door when you approach, without you having to reach for your phone or keys. An added bonus, this hands-free feature minimizes contact that can spread illness and germs.
Not only can you navigate your front door lock through your smartphone, tablet, or computer, you can also control it with your voice. August smart locks are compatible with Amazon Alexa, Siri, and the Google Assistant, allowing you to activate and manage it with simple vocal commands.
Want peace of mind? We'll show you who comes and goes.
One amazing feature of the August app is our Activity Feed – a complete running list of everything that happens on your August-connected devices, sent directly to your app. You can see anytime a user locks or unlocks your door, when an entry code is created for a new user, or when motion is detected by your doorbell camera. You can also create a unique entry code for holiday visitors or just monitor who's coming and going during this busy season. Either way, the Activity Feed grants you the ultimate peace of mind and home security, so you can focus on what's important to you.
Need a great gift? We've got you covered.
Know someone who perpetually loses their keys? Need a gift for that first-time homeowner or someone making improvements to their rental property? August smart locks and accessories are truly the gift that keeps on giving. Head over to our product pages to browse our different products and capabilities to fit the lifestyle of any loved one in your life. When you give the gift of an August product, you're not just gifting a smart home device – you're gifting security, style and peace of mind. 
Wishing all of you a happy and healthy holiday season! Tag us on social media (@AugustHomeInc) to show us how you're using your August products to make your celebrations simple and easy.