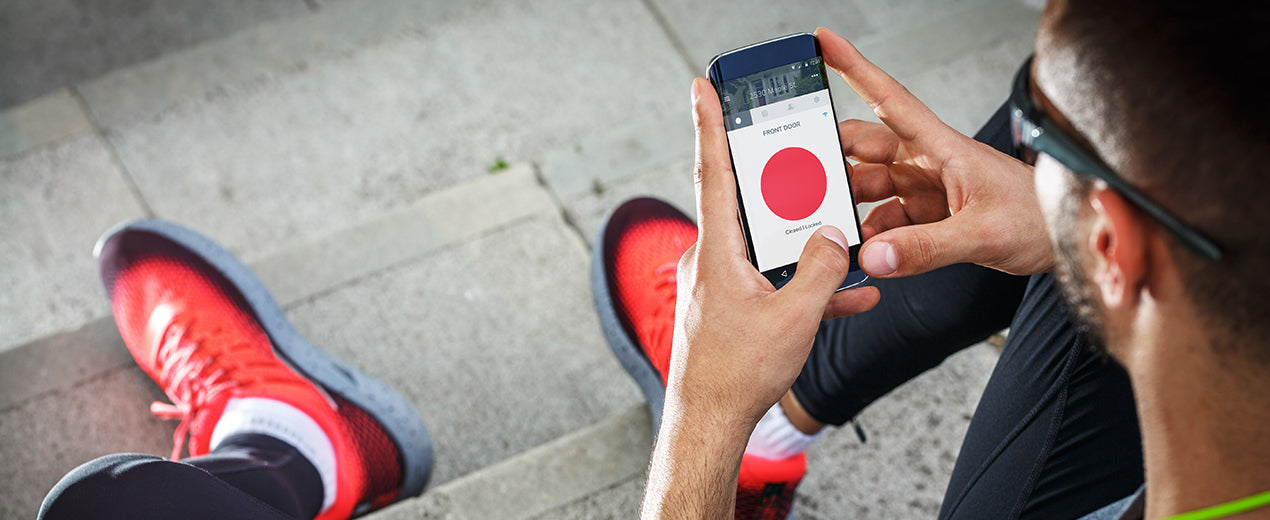 August Home Adds Auto-Connect to August Smart Locks
May 09, 2018
Gone are the days of fumbling for your keys, wondering if you forgot to lock the door, or forgetting where you left your keys. With August's advanced line of smart locks, you can control your door from anywhere, anytime. August's Smart Lock with Connect is now location-aware, so it can detect when you're near the door with or without a Wi-Fi connection.
How Does a Keyless Front Door Lock Work?
A keyless front door lock can make your life easier than ever. With our Auto-Connect technology, your lock automatically detects if you are in front of your door or accessing your lock remotely for seamless control. Previously, when you wanted to check the status of your lock or let someone in remotely, you had to tap the remote connect button and wait for the lock to connect to Wi-Fi. Now that connection happens automatically when you open the lock screen in your August app. No more waiting for a connection or wondering if you locked the door when you left the house – you can instantly confirm your door is locked from the August app. This saves you time and gives you peace of mind by knowing that your house is secure no matter where you are. It's important to remember that Auto-Connect requires one of our Wi-Fi bridges, such as August Connect Wi-Fi Bridge or an August Doorbell Cam. So, if you're ready to start enjoying the convenience of Auto-Connect, which of our smart locks is right for you?
August Smart Lock Pro
August's Smart Lock Pro gives you total control of your front door. With security features built in, such as two-factor authentication, two-layer encryption, and a lost phone setting, you can rest assured that your home is protected. When used with the Connect Wi-Fi Bridge, this lock offers: 
DoorSense technology

Z-Wave Plus support

Auto-Unlock / Auto-Lock

Remote access

Local access via BlueTooth

Unlimited Virtual Keys

Compatibility with Siri & Apple HomeKit, Amazon Alexa, and Google Assistant
The August Smart Lock Pro + Connect gives you many useful features and allows you to simply update your existing lock, so you don't have to worry about replacing your lock and keys you already have.
August Smart Lock
Another option to control your front door from anywhere is the August Smart Lock. A different look than the Smart Lock Pro, but similar and great features. Adding the Connect Wi-Fi Bridge gives you a variety of benefits including:
Auto-Unlock / Auto-Lock

Unlimited Virtual Keys

DoorSense 

Remote access

Local access via BlueTooth

Works with Amazon Alexa and Google Assistant
Update Your Front Door With A Keyless Front Door Lock
Now you no longer have to worry about losing your keys or figuring out a way to let someone in the house while you're away. With August's advanced features, you simply have to open your app and you're automatically connected. Unlock or lock the door without searching for your keys, check the status of your door, and enjoy peace of mind with August's convenient keyless front door lock. To learn more about the features and tools available at August, shop our store today and find the right locks to make your life easier.