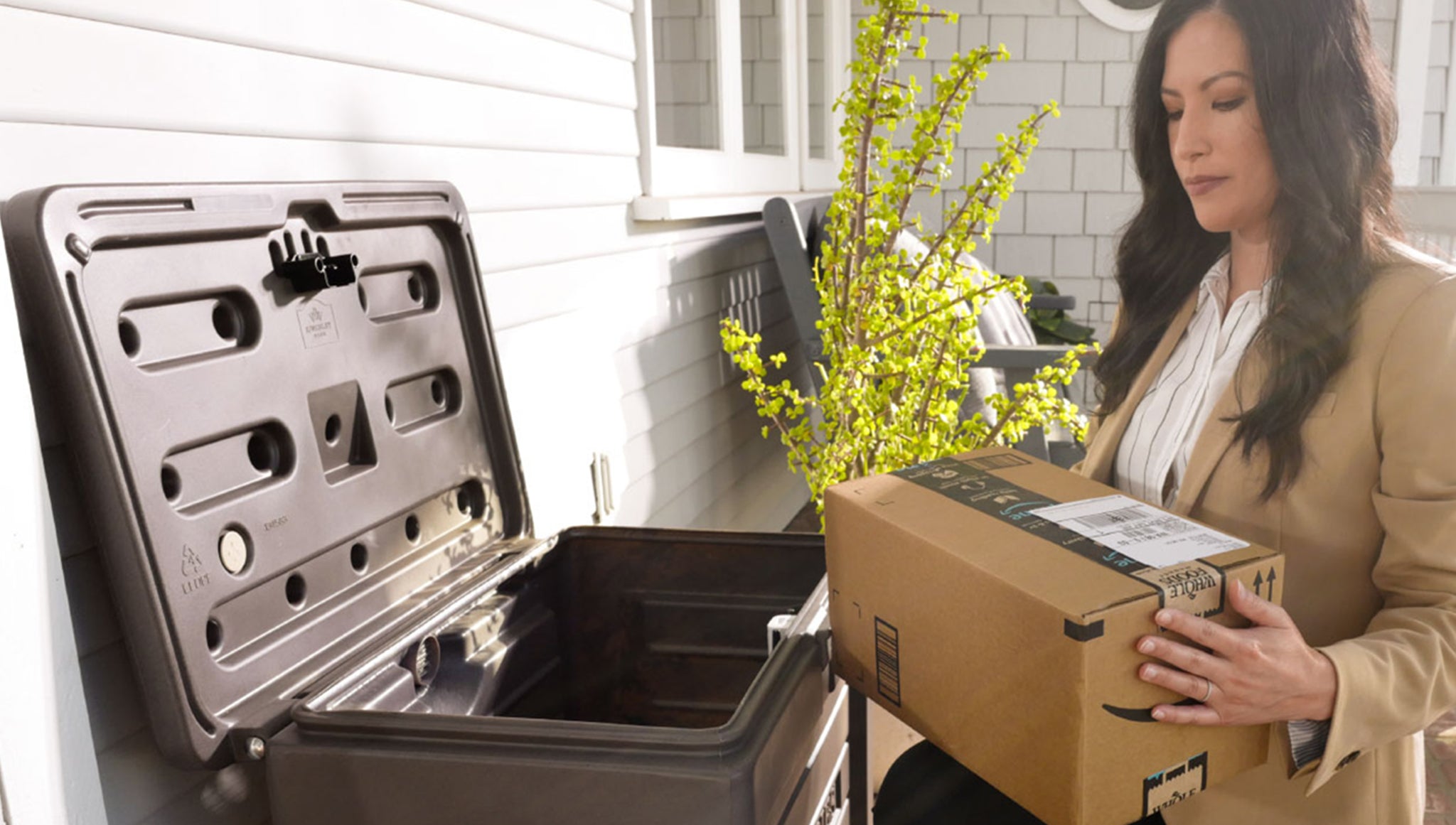 Now Available: Smart Delivery Box & Smart Cabinet Lock from Yale
Oct 08, 2020
We couldn't be more excited to congratulate our sister company, Yale Home, on the launch of their highly-anticipated smart storage and delivery solutions: the Yale Smart Delivery Box and the Yale Smart Cabinet Lock. Bringing Yale's legacy of trusted home security beyond the front door to in and around the home, these products are now available for purchase on August.com, ShopYaleHome.com, Amazon and other major retailers. The new offerings work with the August App, so our August community can manage these products from the app they know and love once the initial set-up is complete using the Yale Access App. 
In a time where many of us are staying in and considering how we can even better protect our families and homes, these smart products can offer new ways to stay safe and simplify our lives.
Yale Smart Delivery Box(™)
Did you know that at least 36% of Americans have had a package stolen from their front door? The Yale Smart Delivery Box is here to change that. Designed in partnership with Kingsley Park, a Step2 Company brand, the Yale Smart Delivery Box offers a secure, non-invasive solution to package theft. Placed outside wherever you commonly receive packages (e.g. porch, garage), the box keeps packages secure, protected from the elements, and out of plain sight. An added bonus: in today's era of social distancing, the Smart Delivery Box allows for safe, contactless delivery from any carrier, without sacrificing your peace of mind. 
You can easily operate it with the August App. Set it to "Delivery Mode" to leave the box unlocked until a delivery is made, from any carrier. Once the delivery is made, the box will Auto-Lock, securing the package, and you will receive a notification from your August App. You can also lock, unlock and share access with others at will and receive notifications from anywhere when using the included Connect Wi-Fi Bridge. Finally, you can outfit it with a Smart Keypad (included with select models) to give delivery personnel, or people you trust, simple entry codes. Whichever method chosen, the box gives flexibility and accessibility to all kinds of delivery personnel as well as any friend/family member who may want to retrieve or deliver a package. 
Whether you're receiving grocery deliveries (for that, check out the cooler bag sold separately!) or holiday gifts this coming season, the Smart Delivery Box is the perfect solution to safeguarding your packages. 
Yale Smart Cabinet Lock
The Yale Smart Cabinet Lock can be installed inside cabinets or drawers to protect valuable items, such as jewelry or important documents. For households with small children, it can help keep items like medicine, alcohol, or cleaning supplies out of reach. It's also a great tool for vacation rental owners—the lock can not only be used to secure valuables from renters and guests, but also store cleaning supplies for maintenance workers. Mounted on the cabinet's interior base with either 3M adhesive or screws, you can unlock and lock it from anywhere, grant access to trusted parties, and be notified whenever it's unlocked with the August App and Connect Wi-Fi Bridge.
Sound great? We think so, too. Head over to the retailers listed above to add these products to your smart home, and start enjoying increased convenience and security from the moment you bring them home.