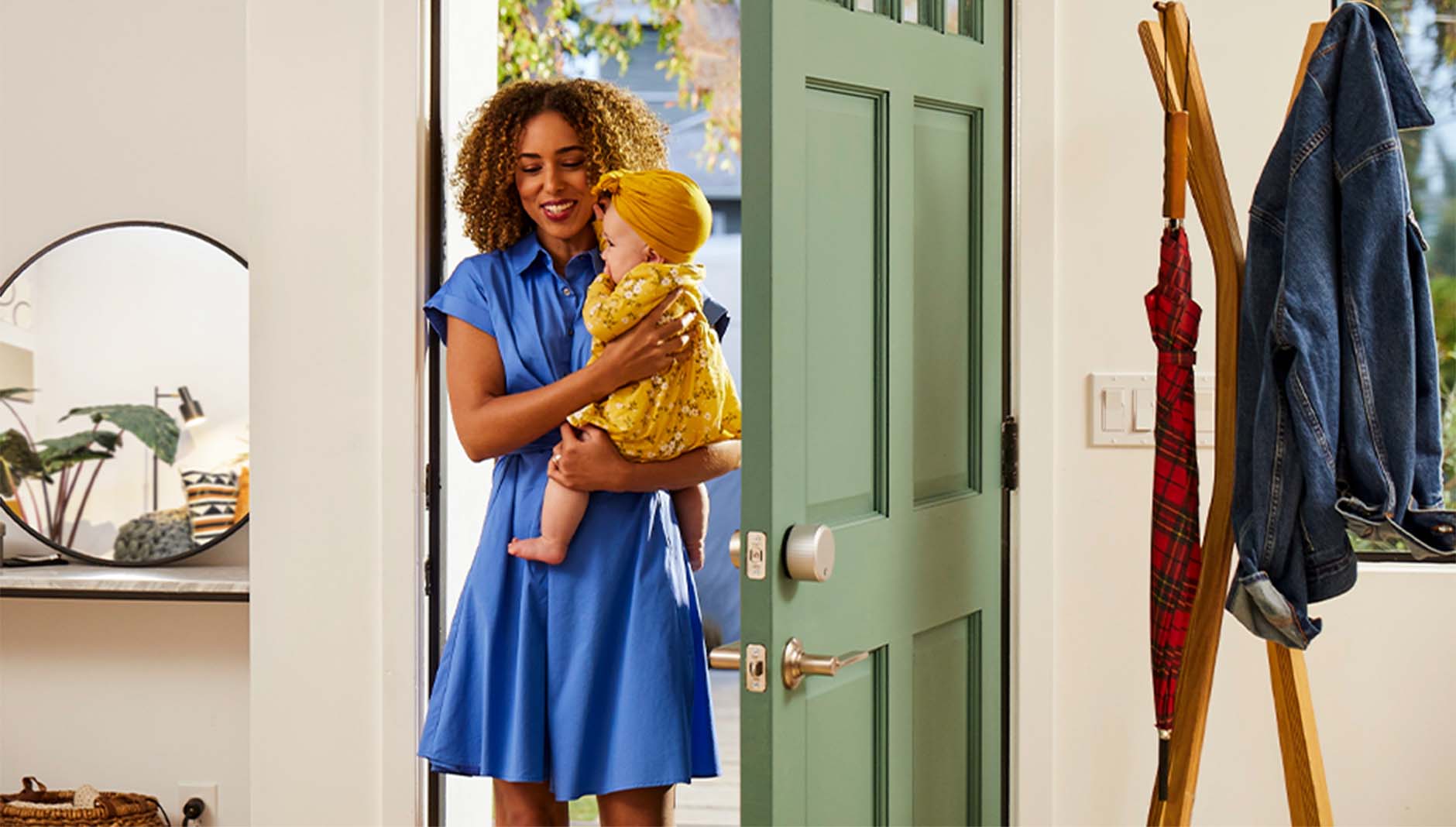 The Best Mother's Day Gift for the Busy Mom
Apr 26, 2022
On your list of people who tirelessly care for others, Mom is probably right at the top. Maybe she's up at 6am, juggling work emails and breakfast with the kids, and trying to pack lunches on very little sleep. Or she's scheduling the carpool while finishing up a presentation for the office. She's exhausted, burned out, and in dire need of a break. But of course, there's no rest for the busy mom. If only there was a way to make her life just a bit easier—a friend to come alongside and lend a hand…
Enter the August Wi-Fi Smart Lock. This Mother's Day gift for the busy mom will deliver more peace of mind and less stress—in everyday moments, all year long. Here are some ways the August lock can help Mom today:
Coming Home with Kids and Groceries: 
The hardworking mom has countless things to do throughout the day, from running errands to shuttling kids. At the end of the day, it's time to bring everything and everyone back into the house. The grocery bags are heavy and the kids are hungry and tired after picking them up from practice.
The August Wi-Fi Smart Lock can provide a desperately needed extra hand. With the Smart Lock's intelligent Auto-Unlock feature, the door will react as needed so she never has to fumble for keys again. Even better, pair the August Wi-Fi Smart Lock with the Navis Paddle for 100% hands-free entry - arrive home to Auto-Unlock and simply push the handle to open the door for easy, streamlined access. When you're searching for practical, unique gifts for Mom, choose the one that will repeatedly free up time and energy.
Multitasking Like a Boss: 
Often, the rush of leaving the house or coming home for the night is full of activities. From making sure everyone has their backpack before heading to school, to juggling a myriad of work and after-school items upon return, it can be easy to miss something.  
Mom can leverage the August Wi-Fi Smart Lock's voice assistant integration to come to her rescue. By asking "Alexa, can you unlock the door?" before leaving, or "Hey Google, please lock the door" upon coming home, door access and security can be one less thing she has to put her hands to. If you're looking for gifts for the mom who doesn't want anything, give her a first-rate multitasking helper. 
Granting Home Access While Away:
When managing a home and a career, the working mom often finds herself needed in two places at once. She may be presenting to a client when the dog walker arrives for Fido, or stuck in a late meeting as the babysitter for date night arrives. She knows leaving a key under the mat isn't the safest option, but she has to get everything done. There's no other choice—or is there?
Gifts for working moms should make life easier, and the August Wi-Fi Smart Lock + Keypad does it in style. With the Smart Lock's advanced Guest Access feature, she can grant unlimited virtual keys or keypad codes to the house cleaner, sitter or anyone else needing entry. She can even choose how long these digital keys are valid, whether for a few weeks, a few hours, or just a few minutes. She'll never have to worry about lost, stolen, or copied keys ever again - a Mother's Day gift that will pay off for the long term.. 
The August Wi-Fi Smart Lock is a practical unique Mother's Day gift for the busy mom—even the mom who doesn't want anything! Give her a chance to take back control over her hectic schedule with a device designed to be her trusted friend. Whether she's coming or going, hitting the commute or making a home, August has the hardworking mom's back through it all. We're here to help her get it all done.
And right now, enjoy 15% off all sitewide smart lock bundles with keypad or hardware pairings using code THANKYOUMOM. Don't wait—this special offer on these genius Mother's Day gifts is only valid from 4/19 to 5/8.