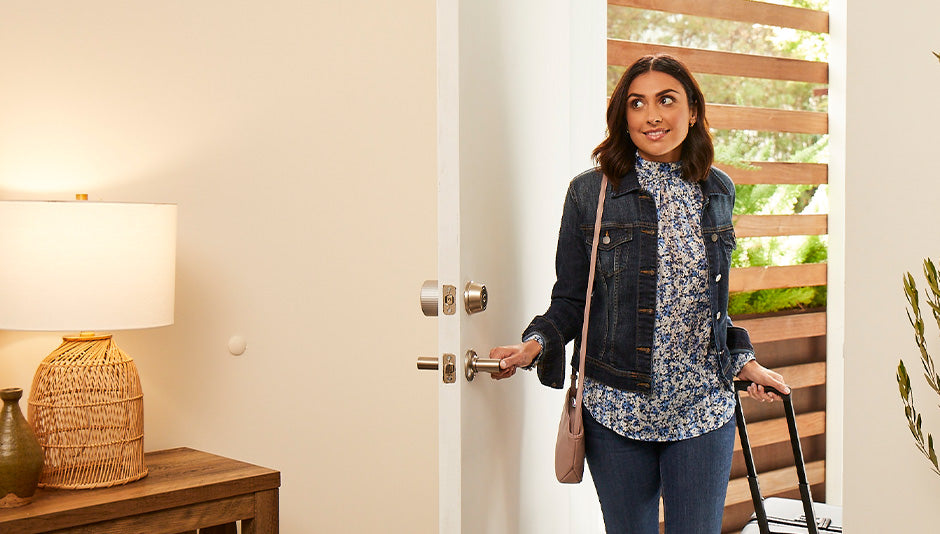 The Best Airbnb Amenities and Smart Home Upgrades to Offer Your Guests
Apr 13, 2022
If you have an Airbnb property, you understand that some amenities are essential. Renters look for spaces that act as a home away from home while providing new and fun experiences. Guests often look for Airbnbs that offer the amenities that they know will give them the best vacationing experience. Offering and highlighting these amenities in your Airbnb listing helps your listing stand out in the crowd. 
 
Smart technology has become a staple in our lives, and a must-have for added convenience and amenities for short-term home rentals or destination properties. Here are some ideas for things that you can (and should) offer to your Airbnb renters to provide them with the most engaging and enjoyable experience possible.
The Best Smart Home Devices for Leisure and Entertainment
When guests look for an Airbnb to stay in, one of the first things they scan listings for is entertainment. A listing that can provide the best smart home entertainment systems to allow your guests to watch, listen to, or read their favorites is an Airbnb essential. These will enhance your guests' experience by elevating their leisure and entertainment during their stay. 

Bluetooth Speakers
Music is a big part of many people's lives. A high-quality Bluetooth speaker adds a touch of familiarity to your home for your guests. Being able to play their music from their own devices makes their stay that much more enjoyable.

A Smart TV
Your guests will appreciate the addition of a smart TV with streaming capabilities. Streaming their favorites on a large television screen is better than using a laptop any day. This added entertainment goes a long way for your guests' comfort in your home. 
Smart Devices for Convenience and Comfort 
Access to convenience and comfort is something that many guests look for. In fact, these are essential parts of a renter's or vacationer's experience. Having devices that promote leisure and relaxation makes them feel right at home.

Smart Home Assistance
The application of smart home assistants is up and coming in Airbnb homes, including Amazon Alexa, Google Assistant, and the Apple HomeKit (Siri). 
 
These smart gadgets work well in living rooms and kitchens, as guests can consult the device for recipes or nearby restaurants in an area they are likely unfamiliar with. These are one of the many Airbnb essentials, and they're an excellent way for guests to find local attractions. In addition, these devices can be used by your guests to easily control other smart devices installed in your home like smart lights, smart thermostats and smart locks.

Smart Thermostats
The height of comfort away from home is still getting a good night's sleep—even though it isn't your bed. The perfect temperature may be essential for your guests to sleep well. For this reason, controlling the temperature in an Airbnb is vital for your guests.
 
Temperature control is high on the list of amenities for many guests. Using a smart thermostat allows you to automate ideal temperatures or alternatively lets guests adjust heating or cooling their needs. Many models will return to the default temperature after checkout, too, or can be remotely controlled from your phone when guests are not currently occupying your home, helping you save energy and money.

Reliable Wi-Fi Connection
This goes without saying, but in 2022, most people consider Wi-Fi an essential amenity anywhere. Without it, how can guests enjoy the other smart devices you've given them? Wi-Fi is essential, and with so many people working remotely now, there's no way around that.
 
A stable internet connection is high on the list of amenities that your guests will look for in your listing. It's best to highlight this as early in the description as possible. Fast, reliable Wi-Fi is one of those Airbnb must-haves that we mentioned earlier, plus having all of your devices connected to the internet is essential for controlling your smart devices remotely when guests aren't occupying your home.
Smart Devices for Safety and Security
All Airbnb owners should strive to keep guests safe during their stay. The safety of customers is essential for your business to thrive.
 
These smart devices make that an easy task, and you can ensure that your guests are always safe so they can enjoy their stay with peace of mind.

Smart Surveillance Cameras
These aren't meant to watch guests but rather to keep them safe. Many property owners place smart surveillance cameras around the exterior of their property—an added security measure your renters will thank you for.
 
While you may not mention surveillance in the listing, it is one of those added safety features that your guests will appreciate.

Safe Self-Check-In Is Essential
Ensuring your guests have a comfortable and safe check-in experience is an excellent way to give them a great experience - and is an essential part of owning an Airbnb. With self check-in, your guests can let themselves in and out of the Airbnb at their convenience. 
 
Many Airbnb guests worry about losing their keys, but you can end this worry for them. The solution is using a smart lock for self-check-in. A smart lock provides a safe, keyless, and convenient way for guests to access their room. August's Smarter Hosting Bundle is the perfect solution for anyone looking to make a keyless self-check-in to their Airbnb as seamless as possible.

Meet the August Smart Locks
August Smart Locks are high on the list of Airbnb amenities. Rather than making endless key copies or sharing generic access codes, smart locks make it easy for you to manage and customize your guests' access. Best of all, August smart locks integrate directly with your Airbnb Host account to automatically generate unique virtual keys for guest stays. 
 
With an August Smart Lock and optional Smart Keypad for your Airbnb, you have access to an extensive range of features. These include: 
- Easy, self-check in for guests, allowing them to enter your property
- Allow your guests to lock and unlock the door digitally with unique temporary access keys set up just for them (and for extra security, virtual App keys or Key Codes expire after guests leave)
- Schedule temporary virtual access for cleaners, handyman and other professional services via the August App
Choose from the Wi-Fi Smart Lock, Smart Lock Pro, 
or the Smart Lock 
for your Airbnb - and add the Smart Keypad 
for even more convenience. August Smart Locks with Wi-Fi are compatible with many smart devices listed in this article. Learn more 
about how August Smart Locks can benefit you and your Airbnb rental property today!