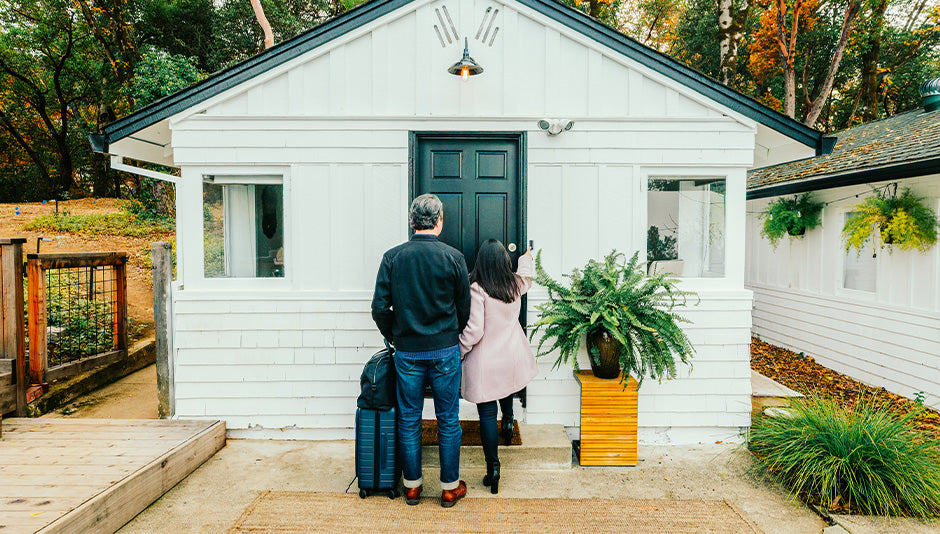 How To Start Hosting With Airbnb
Mar 23, 2022
Have you ever thought about hosting an Airbnb, but never really knew where to start? It may seem overwhelming at first, but once you create a checklist of all the things you need to get done, it's smooth sailing from there. Whether it's using your spare room or launching a rental business, setting up a source of income through Airbnb is right at your fingertips.
To help prepare you for your first guests, we've put together our top Airbnb Hosting tips including what type of property to rent out, cleaning and home repairs, decorating and styling, selling rates and more. Plus, we explain how to upgrade your Airbnb space with the
August Smarter Hosting Bundle
(equipped with August Smart Lock and Keypad) 
August Smart Lock
and Smart Keypad to provide your guests top security and convenience with virtual keys and key-code entry.
List Your Home vs. Invest in Rental Property
First, think about the space you're going to rent out. Starting an Airbnb is possible in virtually any area, so it's up to you to use what you have or what's available in the current market.
Consider one of these options for your first listing:
- Your entire home or apartment
- A single room
- A sleeping area in a shared space
- An entire listing property
Renting out a shared space is probably one of the easiest ways to get started, but you'll have to consider sharing a space with a stranger and not earning as much as a full rental. 
To create a main income source, you may need to rent out your entire home or use rental properties.
Prepare Your Airbnb Listing
If you want to start a successful Airbnb, then you may need to spruce up your property. You can invest in new decorations, furnishings or other items to make a memorable stay and become a highly rated host.
Cleaning and Home Repairs
All Airbnb listing options require cleaning and many will need home repairs. This may start out feeling like a major task, but as you get used to the listing process it can become second nature.
There are several options to explore: you can clean on your own, hire a cleaner or work with a professional cleaning service. Be sure you follow the recommended cleaning steps for Airbnb listings. If you're working with a team, they need to be flexible enough to clean from day to day or week to week in between guests. With the August Smart Lock you can share or schedule access for cleaning professionals through the August App. 
You can use your same home repair professionals for any leaking plumbing, scratched flooring or peeling paint. Also, be sure you have an emergency number to handle any late-night or weekend emergencies while you have guests.
Clean and Decorate Your Space
Besides routine cleaning in between guests, make sure you do some major decluttering and organizing when preparing your Airbnb. This helps create an inviting oasis for guests by removing personal items, clearing cabinets and making sure the home has necessary items for a quality stay. For example, consider the below:
- Quality mattresses and furniture
- Plenty of sheets, pillows and towels
- Common kitchen utensils
- Neutral artwork on the walls
- Single serve coffee machine such as a Keurig or Nespresso
- Storage for clothing
- A steamer or ironing board
- Workspace or monitor since most guests are working from home
You'll also want some decorations and furnishings, but not so much that your rental feels crowded. Sometimes a minimalist but thoughtful style can give a space the right combination of freshness and warmth so guests can easily call it home - even for just a while. 

Consider Smart Devices for Hosting
Now that your listing is stylishly decorated and properly stocked, it's time to keep it safe yet conveniently accessible. Begin using an August Smart Lock which features a direct integration with Airbnb which will allow for a seamless check in. You can Automate unique virtual keys for the duration of the guests stay,  or attach an August Keypad and give out unique codes timed to each guest's stay.  
Providing smart locks for your guests increases the ease of checking in (no lockboxes or inconvenient exchanges needed!) and eliminates the risk of guests losing a key. If you are starting an Airbnb, you will want to make sure your guests have an optimal experience. Learn more on how using a smart lock with your Airbnb can help you.
Create a Memorable Travel Experience
Starting an Airbnb is about more than just providing a space to sleep. Give your guests a complete vacation experience with local recommendations and information. A good host offers a comfortable, convenient place to stay, but an excellent host helps curate the entire travel experience. 
Organize a Guidebook
One of the most practical Airbnb tips is to create a guidebook. Start your book with the basics, like house rules, check-in and check-out policies and your Wi-Fi password. Next, add suggestions for guests who may not be familiar with the area.
These may include favorite restaurants, popular attractions and scenic drives that guests may not be aware of. This personal touch takes some time to organize at first, but you can continue to use the same resource for all of your guests for a quality experience. 
Prepare for Questions
Don't leave guests to fend for themselves in a new town and in your home. Be prepared to answer questions, offer recommendations and coordinate emergency services for your guests as needed. These could include anything from meal recommendations to unexpected plumbing service calls, so have your contact lists ready 
You don't have to be in town to handle these questions. Give your contact information or receive message alerts from your Airbnb app to help your guest with any situation.
Set Up Your Airbnb Listing
Now that your property is ready to rent, it's time to get it live!. Create a listing that's personalized and represents your unique listing opportunity. 
Set Rates, Availability and House Rules
Your Airbnb listing is fully in your control. You get to decide your nightly price, cleaning fees, availability and cancellation policies. Set a minimum nightly stay or a maximum stay and fill out your house rules so guests know what to expect before booking your listing. 
Advertise Your Listing
Airbnb also makes it easy to advertise your home. Here are some great ways to show off your home or apartment:
- Use professional, well-lit photos of your property
- Describe your listing in engaging, accurate ways, particularly the title
- List all the house rules and available amenities
- Describe local sites and benefits of the location 
Now that you know how to become an Airbnb Host, it's time to welcome your first guest! Remember to relax, and take joy in the process of giving someone a home away from home.