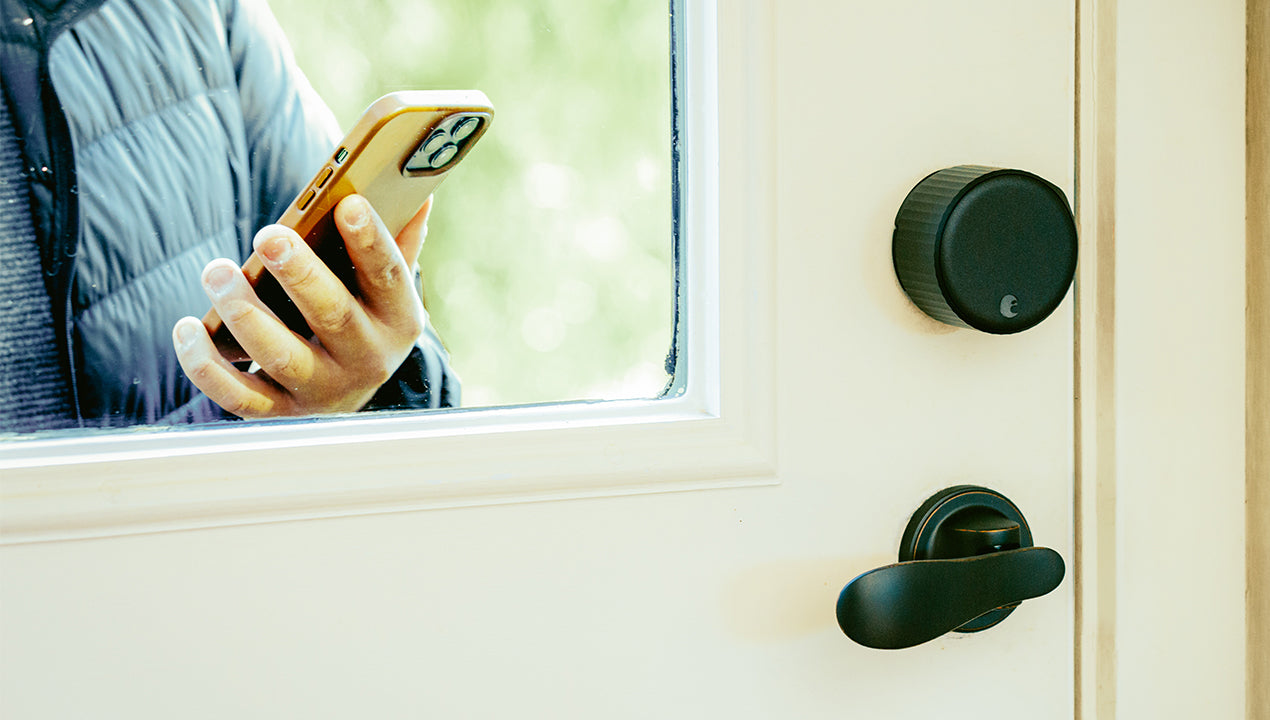 Springing Into A "Familiar Normal" with August & Yale
Mar 22, 2021
With pandemic restrictions slowly beginning to lift, a return to our old lifestyle and a "familiar normal" is finally on the horizon. And just in time for spring -- we're all eager to step out of our homes and officially "lock" the last year behind!
Take advantage of the spring cleaning and home improvement season to prep your household for new (or old) routines in a post-COVID world. Whether you'll be returning to a commute, going back to school or finally doing some much-needed travel, August and Yale can help ensure your home is safe and accessible from wherever you are.
 Whether you rent an apartment or own a home, the August Wi-Fi Smart Lock can bring smart security and keyless access right from your phone. Simply install it on the inside of your door with a screwdriver, and, if you'd like, connect it to your smart home system (e.g. Samsung SmartThings) or your voice assistants. You can even connect it with your lighting system (Philips Hue) or robot vacuum (iRobot) to make your lights turn off and the vacuum turn on as soon as you leave the house! If you're interested in a full door makeover, consider a smart door bundle that includes a matching Yale handleset.
If you have younger kids or frequent house guests (i.e. dogwalker, cleaners), the August Keypad is a perfect accessory to the August Wi-Fi Smart Lock, giving convenient access through unique PIN codes. Household members and visitors can let themselves in with a simple code, no phone/app required. You can even customize codes for certain times and days of the week for ultimate peace of mind.
Just because you may not be home as often doesn't mean you need to miss deliveries. Place this box on your porch or outside the garage, and ask that delivery personnel place packages inside with a sign or in your carrier preferences. Once a package is received, the box will automatically lock, keeping them safe from weather and out of sight from any would-be porch pirates. Through the Yale Access app, you'll be able to receive notifications upon delivery, or unlock the box remotely if you're expecting more than one package a day.
After your spring cleaning session, make sure your cabinets and drawers are not only decluttered, but also secure! Keep children out of cleaning supplies, guests out of valuables or teenagers out of the liquor cabinet with the discreet, easily installed Yale Smart Cabinet Lock. Available with Wi-Fi so that you can receive notifications whenever the cabinet/drawer is opened and unlock/lock it from anywhere. Plus, with the Wi-Fi option you'll be able to use the Smart Cabinet Lock with your favorite voice assistant for even more convenience.
We hope a home refresh will bring a new sense of optimism to your family as we begin to move on from a difficult year. Happy spring!