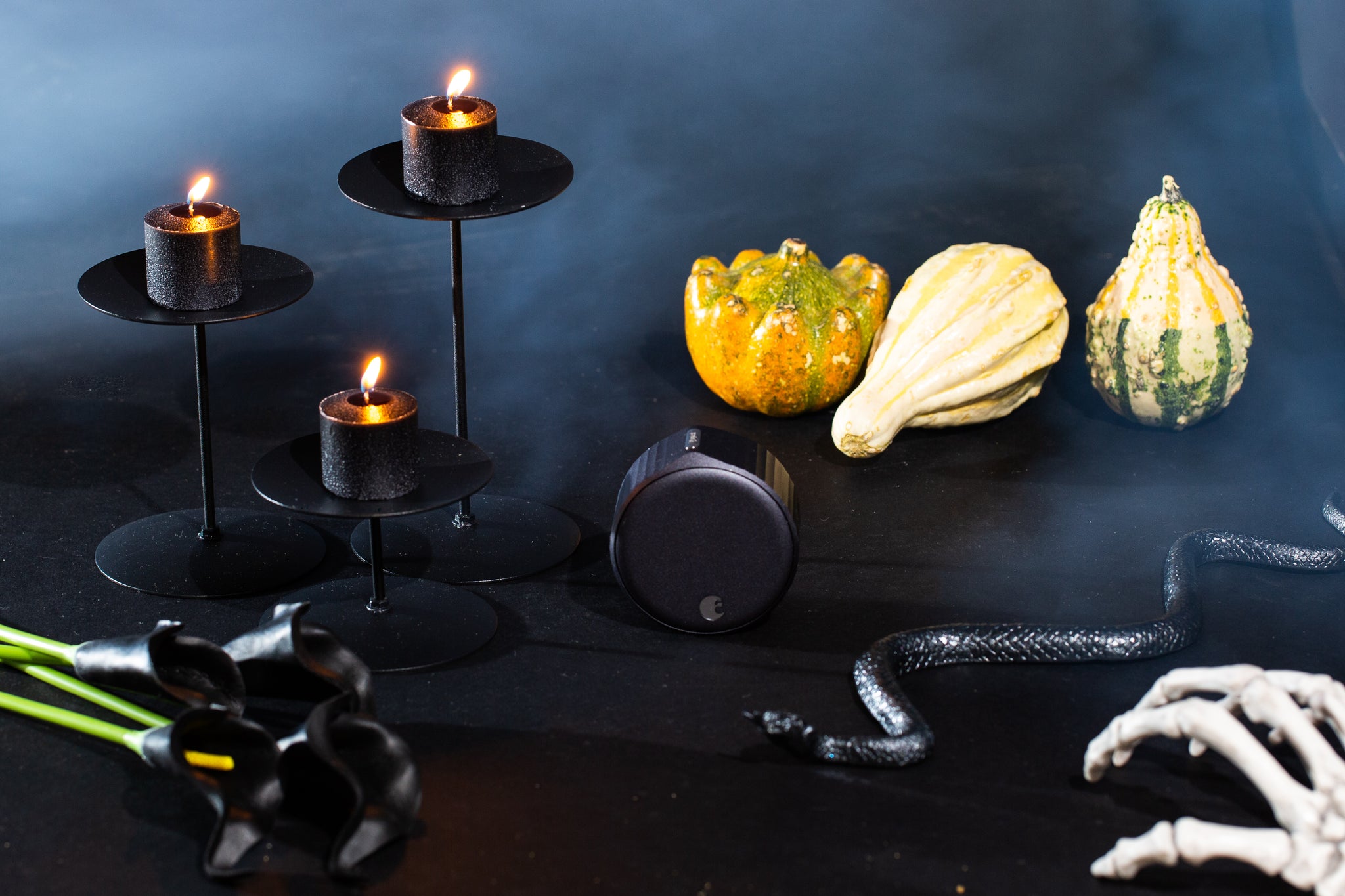 Prep Your Front Door for Trick-or-Treaters
Oct 24, 2022
October 31 may be your doorstep's busiest night of the year. Make sure you're prepared for plenty of spooky visitors with the August Wi-Fi Smart Lock. A smart door lock like the August lock can help you keep your front door secure throughout the ebb and flow of trick-or-treaters or party guests. And don't forget to have fun yourself! Here are some quick tips on how to do Halloween night right.
Secure Your Entryway: Steer clear of any scary movie plots becoming a reality with an August smart lock. No matter where your night takes you, you can feel confident that your home is locked and secure, even from afar. Grant guests access if you're throwing a Halloween party or remotely lock your door when you're taking a little one trick-or-treating yourself with the August Wi-Fi Smart Lock. If a horror movie has you stressed, you can check (and re-check) your lock status at any time.
Stock Up on Candy: The best way to dress up a doorstep on Halloween is to greet trick-or-treaters with a big bowl of candy. Whether you're the type to pass it out or you trust visitors to use the honor system and serve themselves—candy is crucial. Word travels fast if you're a house that stocks up with the good stuff so be prepared to be even busier once people see that you're serving up full candy bars or beloved brands. No toothbrushes or raisins allowed.
Set a Spooky Mood: Program your lights with Philips Hue to create a new experience for trick-or-treaters. Coordinate the color of your lighting with your decor so everything looks extra eerie or program your porch lights to click on whenever you unlock your door. Either way, you'll have a smarter, more convenient method to illuminate your visitors' paths.
Style Your Own Costume: Last but not least, dress up yourself! Trick-or-treaters will love to see that you're equally excited for the spookiest night of the year. Whether you've decorated your entryway to be truly scary or downright whimsical, you can match the overall vibe with the perfect costume. 
Go into the creepiest night of the year with no fear and a lot of fun! You'll be able to get in the Halloween spirit without any anxiety about your front door being secure when you have a smart lock. From lighting to auto-locking, the August Wi-Fi Smart Lock offers features that can elevate your night so you can focus on ghosts, ghouls, and guests. Check out our latest spooky social post live on our Instagram!