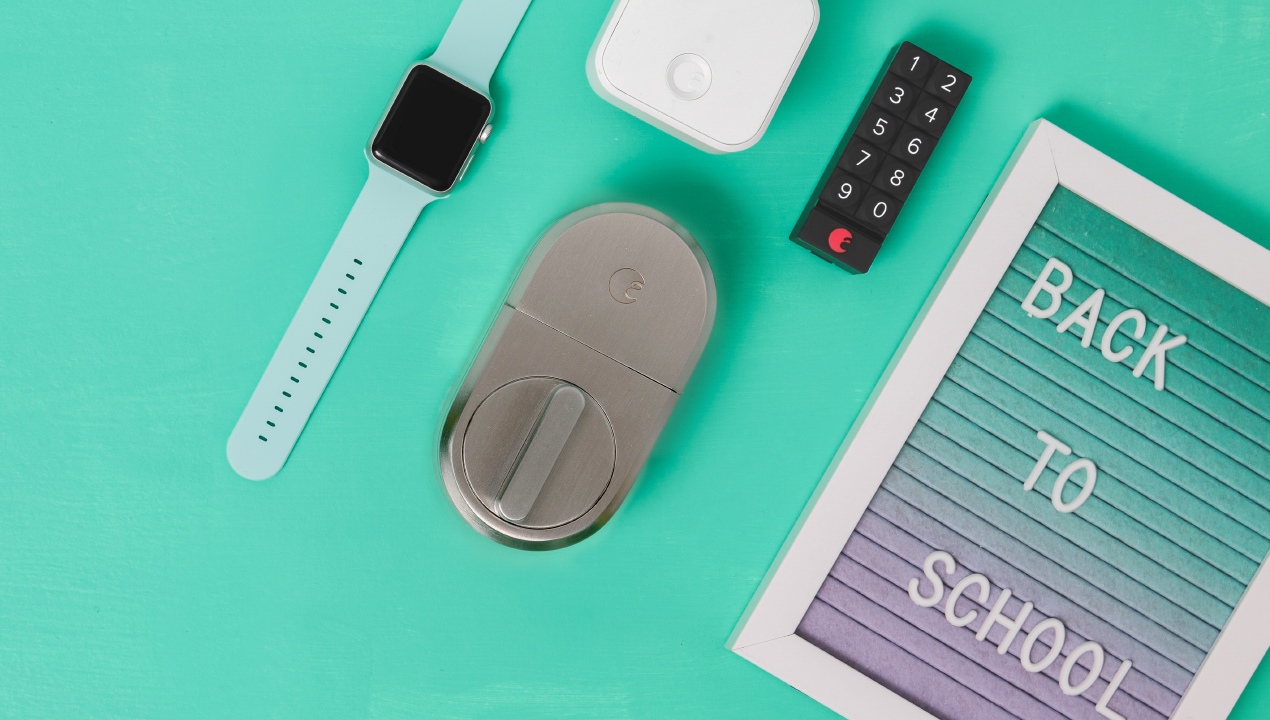 Head Back to School with August by Your Side
Aug 27, 2019
After a few months of summer fun, most parents are ready to get their kids back to school. But then we remember — the school year is pretty crazy, too. Between soccer practices and music classes and playdates and drop-offs, our homes and cars become revolving doors of snacks and schedules. With Back to School season upon us, it's important to mentally prepare for the year ahead and implement some sanity-saving strategies to safeguard your family's routine. And we all know that your home is where the family sets the tone for how the day will begin and end. So what better time than now to take the smart home leap? An August-connected household makes you feel like you grew 2 extra hands and another brain, which, let's be real: every parent would benefit from. Here are a few ways a connected home helps parents navigate the hectic Back to School season...directly from people that use and love August and Connected by August smart locks.
Shared Access: "I need all the help I can get with Edie, so between my parents, my in-laws and my cleaning service, I've always got people coming in and out of my house. It was the best decision to install my August-connected Smart Lock, where I can give each of them their own code to come in and out of my house without me having to give out our house keys and worry about them getting lost. I can even track who comes in and out using their codes with the app! It's been such a lifesaver and I can't imagine going back!" — Tiffany
Keyless Entry: "Now that the weather has finally turned we are in and out all day long, going for walks, riding our bikes, playing with chalk, you name it! I'm so thankful that August makes it so easy to keep our home safe, while we are on the go. I can easily lock and unlock our door right from my watch or phone. I never knew how much we would use keyless entry, and how convenient it would be for our family, but no more hideaway keys, and codes definitely makes life so much easier! It was installed and connected to our phones, and our Alexa devices in minutes." — Ari
Access On Your Terms: "From pet sitters/walkers, house sitters, house cleaners, house guests, electricians/handymen, children who come home after school, babysitters/nannies…there are lots of people who may need to let themselves into the house either regularly or from time to time, and/or who could lose their key, and lock themselves out…it just makes so much sense to always be able to control your home's lock remotely! " — Marie
Upgraded Convenience: "I would normally have to lock and unlock the door from both sides with a key, but the August-connected SmartLock keypad has upgraded us like Beyoncé!! I don't have to carry keys everywhere I go in the house and it's basically hands-free. Picture this - handful of groceries, motion sensor lights up and as you walk up to the door, BOOM! Automatic unlock via Bluetooth! Mind blown!" — Sara
Front Door Security: "My family and I are long time users of August Smart Home products. From our smart doorbell to Smart Lock and keypad, our front door security is at an all time high.  Not only are we able to see who comes to our door, but we can speak with them when we are not home...Recently, my favorite part of using our Smart Lock, is letting in out-of-town family, without having to be home or providing a key. Its freedom at our fingertips." — Naza
As you can see, an August Smart Lock is a life-changing investment that offers families a plethora of benefits. There are some stressors you can't control — but knowing that your front door can provide you with updates on when your kids come and go, grant access to your in-laws and dogsitter, and open for you without a key are all things you can. Wishing you all a safe and seamless Back to School season!