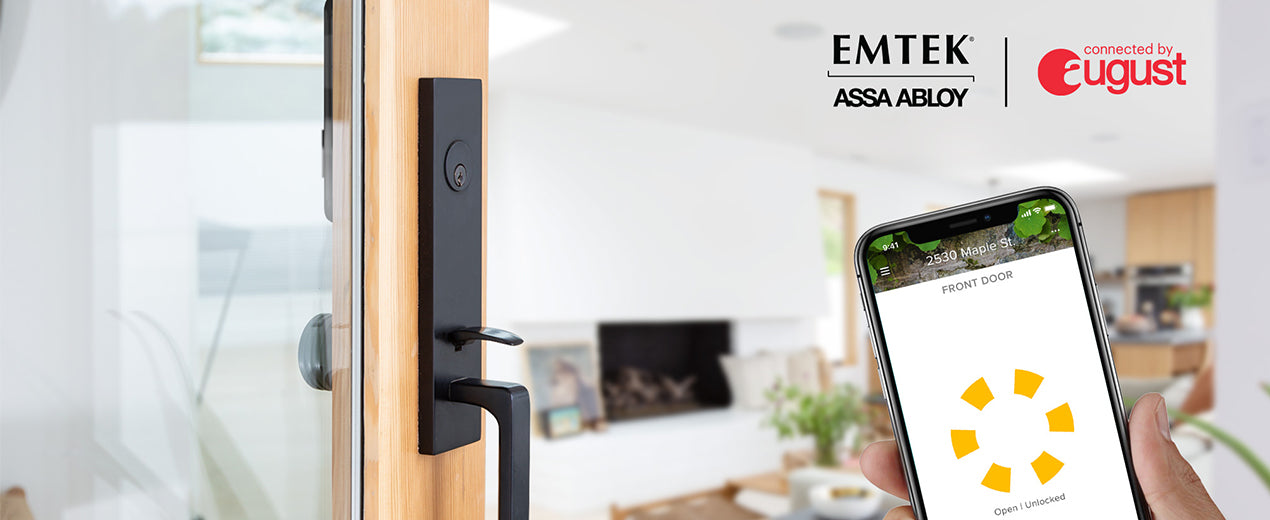 August at CES 2019
Jan 09, 2019
CES is here again, and we're bringing our top-rated software to more products, giving users more options than ever and the best smart lock experience on the market. Get ready to make 2019 your smartest, most connected year ever.
Our sister company Emtek, who is dedicated to bringing your personal style to life through seamless customization, announced the launch of its line of EMPowered Smart Locks - Connected by August. Two of the three new locks offer all of August's flagship features, including Auto-Unlock, Auto-Lock, DoorSense™ technology and compatibility with voice assistants and security and hosting platforms — and can be paired with any of Emtek's design-forward door hardware styles. The product collaboration will come as an elegant touchscreen keypad or with a keyed entryset that can be opened with a key or the August app, providing the most full-featured premium smart lock on the market. It will be the third lock series to feature August's leading technology, following August's own hardware and Yale's Assure Lock line. These will be available starting in February 2019.
Speaking of Yale, Yale just released the Assure Lever — the newest member of their popular Assure Lock line — which also comes Connected by August and offers the full suite of August features. The first non-deadbolt option in the Assure Lock series, the Lever Lock boasts a sleek, slim design intended for single-hole doors for side entries, garages basements, interior rooms and more. We know our community has long-requested an August-enabled non-deadbolt option, and we're excited to deliver this to our customers! These will be available in spring 2019.
August Smart Lock Pros will soon be compatible with Ring Alarm — Ring's professionally monitored home security system. Customers will be able to disarm their Ring Alarm security system by unlocking their August Smart Lock Pro that has a Z-Wave wireless integration, as well as arm the system by locking their Smart Lock Pro. We're excited for this partnership to allow customers to build even more robust home security systems.
2019 will be another full year of connected tech and innovation for our customers, and CES is just the beginning. Keep an eye on our channels and website for more information about these new game-changing releases.