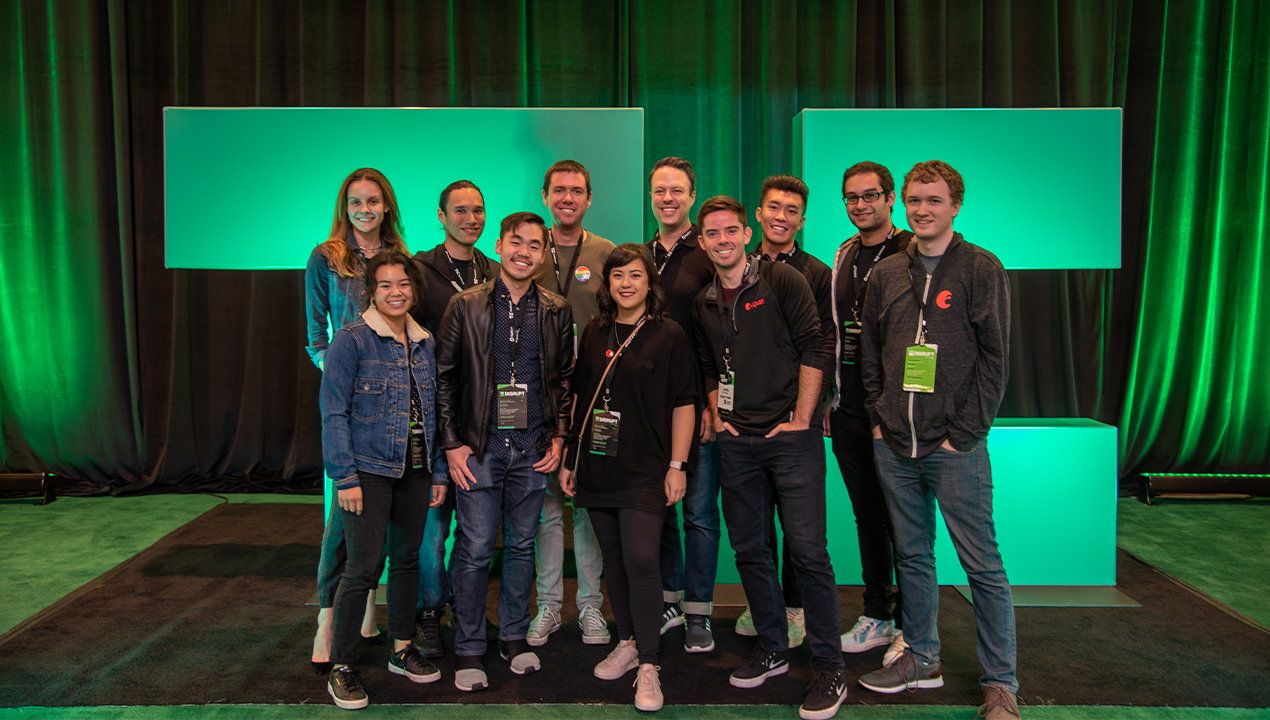 Hacking the Future of Smart Home Access at TechCrunch Disrupt
Oct 18, 2019
TechCrunch Disrupt took place a few weeks ago, serving as a meeting ground for startups, investors and industry leaders to come together for three days of pitching, talks, workshops, and of course, a hackathon. This year, August participated in the hackathon (alongside major brands like Snap Inc, United Airlines and more) and provided our API to developers and coders who were interested in creating innovative solutions and products with our smart locks.
More than 500 hackers from around the world attended and set out to build a unique offering across the span of three days. Six teams chose to use or incorporate the August API and products (ASL Pro + Connect, Doorbell Cam, Keypad). We'd like to spotlight two particularly amazing teams, who shared incredible stories about how they got to the hackathon and used August's technology in their projects. 
Here's their incredible story: A group of nine students from a university in Mexico called CETYS in Mexicali formed two teams. The students were studying mostly mechanical and electrical engineering, and cybernetics. To raise money for their travel to TechCrunch Disrupt, they threw a Mexican Independence Day party, where they sold pizza and hot dogs, held a raffle, and sought support from their school. The fundraising was down to the wire and even just a few days before the hackathon, they still weren't sure they'd be able to make it. When they finally got the OK, they rented a van and drove through the night to make it to San Francisco in time for the conference kickoff. 
August Plus
In just 24 hours, Team 1 created August Plus. Using the August Doorbell Cam and Smart Lock Pro + Connect, the new software recognizes delivery people based on the brand. The Doorbell Cam can recognize an Amazon, UPS or DHL person and securely grant them access to the home. 
GeoPet H+
Team 2 advanced to the semifinals and had the opportunity to present their project, GeoPet H+, on the TechCrunch ExtraCrunch stage. Using the August Doorbell Cam Pro, they created a smart access system for pets that can be used even when pet owners aren't at home, aimed at improving the well-being of pets everywhere. Though GeoPet H+ didn't ultimately win, it was a joy to watch them advance so far and present their solution to the broader TechCrunch Disrupt audience.
We had a wonderful time connecting with so many passionate innovators at TechCrunch Disrupt, and watching brilliant developers use our software to create helpful solutions was the icing on the cake. We took away some technical learnings as well, hearing from hackathon teams that using our API was simple, though there was some friction that we're working to correct around obtaining API access tokens. The biggest learning? August wants to be part of more hackathons in the future! Coming up, we'll be participating in Cal Hacks, the world's largest collegiate hackathon, on October 25-27. Whether we see you at Cal Hacks or somewhere else in the future, we look forward to building the future of smart home access with you!