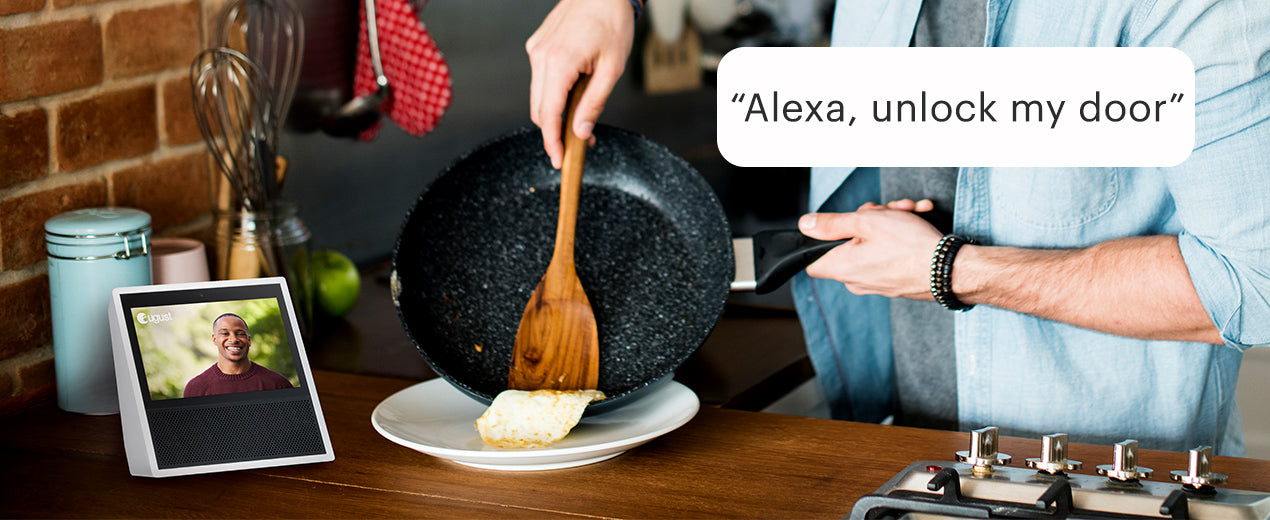 August Makes Unlocking Your Alexa Door Lock Even Easier
May 09, 2018
Your front door just got even smarter with your Alexa door lock devices. In addition to locking and checking the status of your lock, with the Alexa August lock, you can watch live videos of visitors or motion outside your front door on your Amazon devices. August was the first to allow you to unlock your August Smart Lock with your voice using Alexa through our Alexa Custom Skill. Now, August offers many features in our official Alexa Smart Home Skill, making the August Home Smart Home Skills for Alexa the most feature-rich way to control your door with your voice.

The chart below quickly shows how you can use each of these skills to control your August products with your voice. Keep reading to discover in detail how an Alexa compatible door lock can make access to your front door more convenient, smarter, and safer.
The Ultimate Smart Lock That Works With Alexa
Check The Status of Your Lock
Using an Alexa compatible door lock, you can check the status of your lock simply by asking, "Alexa, is my front door locked?" With this feature you will always feel safe and secure in your home without having to leave your bed, the couch, or stop whatever you are doing. No more wondering, worrying, or double-checking with Alexa and the August Smart Lock!
Unlock Your Door
If you are expecting guests, you can also use your Alexa-enabled hands-free door lock to easily unlock the door when they arrive. Whether you are cooking up a storm in the kitchen or doing some last-minute tidying up, when the guests arrive just say, "Alexa, unlock my front door." You will then be prompted to say your PIN code, making sure that your home always stays protected.
Lock Your Door
If you forget to lock your door after you have arrived home, with an Alexa smart lock, your front door becomes a hands-free door lock. No need to get up or even reach for your smartphone to access the August app, simply tell Alexa to lock your door. No matter what you are doing, you can easily secure your home with just your voice.
Doorbell Camera
Along with adapting your August Smart Lock to work as a hands-free door lock, you can also use Alexa to watch live video of visitors or motion outside the door using the August's doorbell camera, the Doorbell Cam Pro. Just ask Alexa to show you the front door camera and watch the video feed on your Echo Show, Echo Spot, or FireTV device. You won't even have to leave the comfort of your couch or step away from the kitchen in the middle of cooking your signature dish- just use your voice. And, while watching the video feed on Echo devices, you can also let your visitor in by saying, "Alexa, unlock the front door," to control your August Smart Lock. Then you will be prompted to provide your secure PIN code to unlock your door.
Talk With Visitors
By telling Alexa to "Answer the front door," you can also activate the microphone and speak to guests at your front door through the August Doorbell Cam Pro. Without having to interrupt whatever you are doing, you can determine who is at your front door, discover anything they may need, and then even tell Alexa to unlock the front door to let them in. By using a Smart lock that works with Alexa it becomes so easy and convenient.
Set PIN Code
To uphold the security of your front door, you also can set and change the PIN code that allows you to unlock your front door using Alexa August Lock. That way only those who know the pin can unlock your door using the hands-free door lock.
Check The Status of Your Door
If you have August DoorSense™ installed, you can also check the status of your front door with Alexa. DoorSense™ is August Home's feature that notifies you if your door is open or closed, helping you feel confident that your home is secure. 
How to Setup Your Smart lock that works with Alexa
If you are already using the official August Alexa Smart Home Skill and one of our August Smart Locks or August Doorbell Cams, you don't have to change anything. If you haven't enabled the official August Skill, visit the Alexa Skill store to start using your voice to control your front door. 
To set your 4-digit code in the Alexa app, go to the Smart Home section, select your August Smart Lock, and enable the "Unlock by voice" and "4-digit voice code" settings. Controlling an Alexa door lock requires an August Smart Lock Pro or August Smart Lock and either an August Connect Wi-Fi Bridge or any August Doorbell Cam to connect the lock to Wi-Fi.
Make Your Door Lock Hands-Free with Alexa August Lock
Make life even easier and more convenient with the Alexa door lock and August Smart lock integration! Check out the August Smart Lock today and be able to control and monitor your door from anywhere.