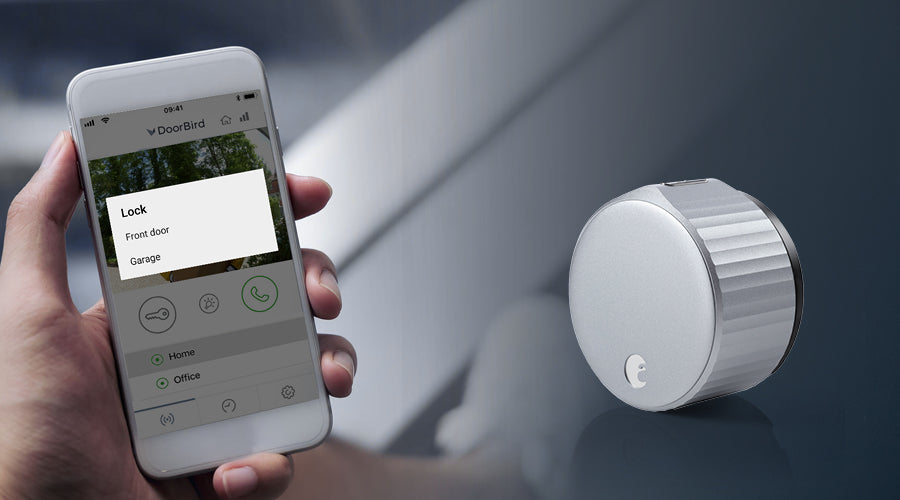 August and Yale Integrate with DoorBird IP Video Door Stations
Mar 15, 2021
We're proud of our robust list of integration partners, helping you connect your locks to voice assistants, lights, alarm systems and even vacuums. Today, we're pleased to announce DoorBird has joined our ranks! You can now connect any Wi-Fi connected August and Yale smart lock to a DoorBird IP Video Door Station for a seamless "approach to entry" experience. 
The new integration works with the August Wi-Fi Smart Lock, any August Smart Lock with a Wi-Fi Connect, and the Yale Assure Locks and Levers with Wi-Fi. Through the DoorBird app, you'll have access to the following features: 
Know who stopped by, even when you're out: Easily integrated into your own home automation system through the DoorBird App, your DoorBird IP Video Door Station will allow you to monitor your front door, gate and/or garage door. With motion sensors and live in-app notifications when the doorbell is pressed, you'll receive an alert whenever someone moves into the entrance area of your home.
Grant access to visitors remotely

: Whether it's a neighbor, friend or family member, you'll be able to have a two-way conversation with any visitor through the integrated DoorBird camera and DoorBird app. You'll also be able to unlock your door from the same app from anywhere -- no more copied keys or inconvenient dashes home to let someone in.
Never miss a delivery

: Tired of missing packages or trying to outsmart porch pirates? Simply use the DoorBird app to greet and grant delivery personnel temporary access to your garage, front gate or hallway, ensuring packages are always safely delivered to your home while you're away. Even if you're at home most of the day, you can grant access from your desk or the couch for ultimate convenience.
We're committed to bringing you the smoothest, safest home access experience, together with our partners. To learn more, visit www.doorbird.com.