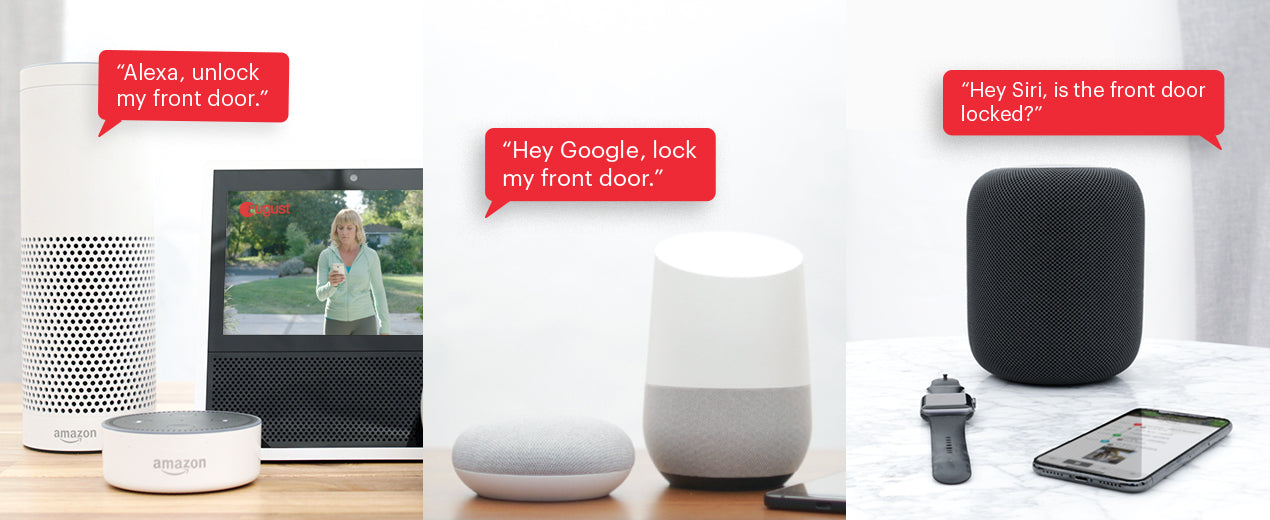 August Takes Hands-Free Smart Home Access to the Next Level
Sep 06, 2018
Smart home technology provides users with a comfortable, convenient, and more secure living space. Connected to the internet, smart home devices can be controlled with one simple click from your phone- meaning you can do things like turn on your lights without even leaving the warmth of your bed. Or, use smart vacuums to clean your living room when you aren't even home. 
With so many smart home devices available, you can control almost anything you want. Think speakers, lights, clocks, cameras, windows, appliances, doorbells, and even locks. And with smart home hubs and controllers like the Amazon Echo Family and the Google Home system, you can take your smart home one step further. Now not only can you control your home through your smartphone, tablet, or computer, you can simply control it with your voice. With the August Smart Lock compatibility, you can use Alexa, Siri, or the Google Assistant to turn your August Smart Lock into a voice activated door lock. August is proud to be a leader in the smart front door space, an industry which seems like it's becoming more universal by the minute. 
August Smart Lock Compatibility
Nowadays, it's difficult to walk into a home where someone isn't asking Alexa, Siri or the Google Assistant to change the music or tell them the weather. Smart voice control is truly a new frontier that's taken convenience to the next level — which is why August is proud to have been the first smart lock company to support all three of the most popular and widely-used voice technologies in the world. 
Whether your household is equipped with Amazon Alexa, the Google Assistant or Apple Siri, we give you the ultimate flexibility to choose your preferred platform and device to integrate with the August Smart Locks. Our team is constantly at the forefront of launching the latest and greatest capabilities of these rapidly evolving platforms, so rest assured that your August Smart Lock will always be the most advanced on the block when it comes to voice assistant support.
Alexa Door Lock
 The August Smart Lock Pro works with all Alexa enabled devices, including the Echo Show, Echo Plus, Echo, Echo Dot, and even Alexa enabled Sonos devices. Simply connect your Amazon and August accounts through the Alexa app on your phone and behold your new Alexa door lock. 
With August, you get an Alexa door lock that can be secured simply by asking, "Alexa, lock my door." To enable unlocking, all you have to do is set up a security pin. This allows you to have complete control over your front door. Never get up in the middle of the night to check if your front door is locked again. Simply check the status of your Alexa door lock from the comfort of your bed. 

You can also integrate your voice activated door lock with your doorbell camera for the ultimate secure front door. Wondering who just rang the doorbell? You can ask Alexa to "Show me the front door," and the August View Wireless Doorbell Camera will stream live video to your Alexa Show or Fire TV-enabled TV.
Google Assistant Door Lock
August also integrates with your Google Home device or any Google Assistant enabled device. To setup your voice activated door lock, launch the Google Assistant app and add a device in your home control settings. Once your device is added, you can control your August Smart Lock using your Google Assistant devices. 
If you have DoorSense™ installed on your door to indicate whether your door is open or closed, you can use your voice activated door lock to check the status of your front door as well. So, no need to worry when your dinner guests arrive and you are still busy in the kitchen. Just use your voice activated door lock and stay focused on the delicious food you have cooking in the oven!
Siri Door Lock
Last but not least, with August, you can control your voice activated door lock using your AppleKit and Siri. This includes your Apple Home Pod, iPad, Apple Watch, and all iPhones. With your August Smart Lock compatibility, you can install the August Smart Lock Pro and connect to your Apple devices without any wiring or permanent installation. This makes it perfect for renters and homeowners alike. 

Similar to the other integrations, using Siri with your voice activated door lock allows you to lock, unlock, and check the status of your front door all without using your phone. And we promise not to judge when you ask Alexa, Google Assistant or Siri "Is the door locked?" for the fifth time. After all, you can never be too careful.
Create the Ultimate Smart Home with Your Voice Activated Door Lock
So, with August, you have the ability to turn your home into the ultimate, secure, smart home using a voice activated door lock. The August Smart Lock Pro already offers great features like the ability to lock and unlock your door straight from your smartphone, grant keyless access to guests, and keep track of who comes and goes all in one place. Now, using Amazon, Google, or Apple, you don't even need the use your smartphone! Check out all of the products August offers today, and turn your home into a secure, smart hub that will always keep you feeling safe.